A resident of Sonarkunda village of Nalhati block in Bengal's Birbhum district, Saikh knew from the start that he would never get the respect his able-bodied friends and family received, but that never stopped him from following his dreams.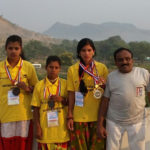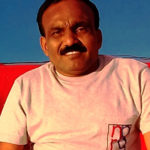 Sometimes, adversity comes in the form of poverty, illiteracy and malnutrition. On other occasions, it comes in the form of physical disabilities. But what would happen if poverty, illiteracy, physical disability and social stigmas come together in one's life? Can he/she make himself/herself capable to live with the same dignity and respect as the so-called physically-economically-socially fit citizens? It is a question that Bodruddoja Saikh, a 54-year-old, who was born with Kyphosis, which causes excessive curvature of the spine, has been asking.
A resident of Sonarkunda village of Nalhati block in West Bengal's Birbhum district, Saikh knew from the start that he would never get the respect his able-bodied friends and family received, but that never stopped him from following his dreams. Today, he trains more than 15 physically-challenged athletes along with ten able-bodied candidates to compete at state-level as well as national-level athletics, through his 'Fighter Coaching Centre', a centre he established. One of his students, Suparna Mal, participated in the Commonwealth Games held in Delhi in 2010.
Challenges and Hardships
But amid the glory lies a five-decade-old story full of extreme challenges and hardships. While sharing stories from his early childhood, Saikh sounds pained by memories. "My relatives harassed me and my father for my disability. They would often direct my father to send me to a madrasa so that I could become a maulana. Although they (my relatives) were quite wealthy, they never came forward to help me continue education, and I was ignored in all family gatherings. Instead, they would rebuff me and my parents for having me." He added, "From that time, I had decided to do something greater that would make them feel proud of me."
Dropped Out of School
For his parents, it was next to impossible to bear his expenditure or educate him while running a nine-member family. So, he dropped out of school after the ninth grade and set out fulfilling his ambition of being self-dependent and self-employed. He took training for tailoring at a nearby town, Nalhati, walking nine kilometres every day. Following his training, he took a loan from a bank, hired a room and started his own tailoring shop. Now he is a successful self-employed tailor, having his own shop, where 14 employees work now. He has two sons who completed graduation and now work in his tailoring shop. But the reason for his fame is not the tailoring part of his life.
Being Sportive
During his time as a tailor, he started an organisation, 'Adivasi Ebhen Ganta' (Adivasi Rising Association) for Adivasi teenagers to train them in various sports. There were two important reasons behind this, and the roots of both reasons could be tracked to his school days. One, when Saikh was in school, he was a good sportsman and used to compete in the annual sports in various categories competing with physically-fit classmates, but later he had to leave this practice because of his deformity. The second reason, he says, left an equally lasting impression in his life. "I must have been in Class 5 or 6 when I experienced something truly horrible. I saw some of my Adivasi classmates were forced to sit on the back benches because of the so-called stink from their bodies which the students from well-to-do families objected to. Though I could do nothing that time, I vowed to do something for the Adivasis which resulted in the establishment of the Association," he says.
Through this Association, he trained many Adivasi students in various categories of sports. His team became the champion of the district. But he could not continue it further due to lack of money.
In 2013, he established a coaching centre with the help of two benevolent school teachers, Kartik Kumar Mondal and Swapan Kumar Late, and the insistence of a group of interested teenagers who wished to be trained under his guidance. Since then, his Coaching Centre has produced many candidates who have participated in many state-level and national-level athletics, swimming. Due to the success achieved on the playing field, many of them have been able to get a job under sports' quota. The same centre has also trained physically able- students achieve glory at the state and national-level competitions.
National-Level Paralympics
Since establishing his coaching centre in 2013, his students have secured 40 gold, 19 silver and 17 bronze medals in the national-level paralympics held between 2013 and 2017. As expected, the numbers of prizes bestowed to his students at the state level exceed the haul at the national level.
"Don't think we can achieve nothing. Instead, stay determined and convince yourself that we can win and achieve everything we wish for by determination, dedication, and hard work," Saikh says. And through his work, he has proved the same, time and again.