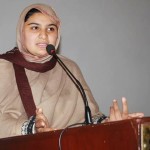 The award ceremony took place at the Marriot Louisville to recognize people from around the world who have made significant contributions pertaining to peace, social justice, human rights, or social capital.
Six individuals 30 years or younger were presented with an award that mirror boxing legend Muhammad Ali's six core principles: confidence, conviction, dedication, giving, respect and spirituality. The Muhammad Ali Center, was co-founded by Ali and his wife Lonnie.
Speaking at the occasion Hadiqa Bashir said she was honoured to receive the award.
"The award reaffirms my conviction that with truth, courage and determination as our weapons, my country, Pakistan will be liberated from every type of injustice and violence," she said.
Bashir added that she was blessed with an amazing and supportive family, especially her uncle Erfaan Hussein Babak who is the co-founder of the group 'Girls United for Human Rights'. He is also founder of the group's parent organization, The Awakening.