Mohammed Zuhaib Imtiaz did not hop into a multi-national company to work after his MBA. Pushed by his zeal to seek knowledge, he travelled to China. Today, he sells his own brand (A+) of sanitary ware products at down-to earth prices!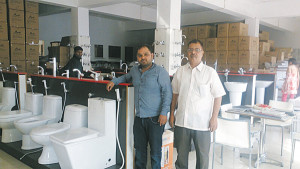 By Nigar Ataulla
I must confess I was putting off meeting Mohammed Zuhaib Imtiaz for a long time. I was told that the "young lad" has created wonderful designs for washbasins and sanitary ware! Two things that kept me putting it off was, one, that I dreaded the heavy traffic in the area where Zuhaib had his showroom, and, two, that I wondered how on earth a boring washbasin could be "creative"!
Reflecting a bit on my editor's advice of "not being judgmental", I set off to listen to Zuhaib's story one afternoon. Called "National Sanitations", Zuhaib and his father have a three ""storeyed showroom right opposite the magnificent Jamia Masjid on SJP Road in Bangalore.
"My father Mohammed Imtiaz is a pioneer in construction materials, ceramic and sanitary ware and has been a trader for over 15 years ago in Bangalore. I developed interest in this business when I was a teenager," says Zuhaib who is just 27 years old.
Completing his 1oth standard from Florence Public School in R.T Nagar and pre-university from the Seshadripuram Educational Trust, Zuhaib pursued a degree from the Jain Centre for Management Studies and MBA Studies from Amity, Bangalore. Unlike many in his peer group who went ahead to grab high-paying jobs in multi-national companies, Zuhaib chose a different path.
"I was interested in doing research on the products that were being showcased in my family business""that is, sanitary ware. When I was still in college, my dad's business had many ups and downs. His carpentry trade was also on, and some of our plans to expand our business of manufacturing doors had to be closed. We had invested lot of money in a partnership business in Dubai, but the partner, who was my dad's friend, passed away and things took a different turn. I remember our business condition had come down to as low as Rs 500 a day! So, I have seen the ups and downs and I determined that I would work hard and build the business back. I knew I had to come up in life. I also knew it was going to be hard work for me!" says Zuhaib.
Seven Months in China
"I wanted to learn more about sanitary ware and the new developments in this field. So, with one little backpack, and my walking shoes, I travelled to China after my MBA. I spent about seven months in China meeting different manufacturers, dropping in at their factories and chatting up with them. I learnt so much about the technology. I did not know Mandarin, yet I managed to communicate with people there as most of them at least know broken English. They are very soft spoken and friendly people. I came back to India with a suitcase weighing 60 kgs, full of samples, brochures, and designs of sanitary ware from China! Meanwhile, my dad had settled down into buying and selling the existing brands of sanitaryware in the market. I used the knowledge I had gained in China and set up the A+ brand of sanitary ware along with my dad," narrates Zuhaib as he proudly shows me a dashing green portable wash basin for the dining area which he says is selling like hot cakes!
No Compromise on Quality
The showroom managed by Zuhaib and his dad houses a range of one piece closets, wall mounted closets, squatting pans, pedestal basins, cabinet basins, art basins, counter basins, hanging basins, hand showers, taps and mirrors also, all that carry the brand name of "A (plus)".
"I do not compromise on quality, and the prices of our products are very reasonable," says Zuhaib as he opens a box of the latest "best seller" from his brand"¦ a sleek flush tank! "It's going to be a winner in the market", he says confidently, adding that his parents have been a great support to him always.
Working hard in his showroom from morning till night and waking in the early hours of dawn to keep researching on his products, Zuhaib takes a break to travel which is his hobby. So far he has travelled to China 12 times, and to Germany, Thailand, UAE and South Africa, too. Everywhere, he makes it a point to learn more about the new developments in his field and comes back to work on them at his showroom!
You can take a peek at Zuhaib's brand of sanitaryware at his showroom: National Sanitations, H.O. No 19, S J P Road, Opp Jamia Masjid, Bangalore. Ph:9900572611