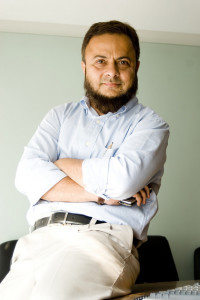 Zafar Sareshwala, the Muslim businessman from Ahmedabad and a close confidant of Prime Minister Narendra Modi has been appointed the Chancellor of the Maulana Azad National Urdu University, Hyderabad. Sareshwala who heads the Parsoli Corporation Limited, an investment and trading company, told a meeting of the staff in a closed-door meeting that building bridges is important for both the community and the BJP-led government. "Modi is a reassuring figure for Muslims not the BJP yet. But then you can't have a democracy where 15% people are alienated from you," said the CEO and MD of Parsoli Corporation.
"Modi has been saying that Musalman ko padhao aur badhao (educate Muslims and promote them). He says Muslims have many problems and if we control one, everything will fall in place," the 52-year-old industrialist told the India Abroad News Service in Hyderabad.
When asked "What did Modi do?, Zafar said, "Have you ever heard Modi saying a word about those people. No. He did something different. He developed Gujarat as a model state. You can't deny the fact that the growth of Muslims in Gujarat has been phenomenal. In fact the kind of growth which we have seen in Muslims post 2002 was never seen prior to that for 40 years. By doing that, Muslims grew and Gujarat also grew. Automatically these voices became irrelevant."
Shabbir Dhankot from Chennai emerged the silver medal winner, first ever for India, of Asian Ten Pin Bowling championship on January 18 at Bangkok. The 26-year bowler totaled 1,396 points only six points behind the gold medal winner, Yusuke Yamamaoto. Kuwait's Mostafa Al Mousawau, with 1,396 pinfalls, lifted the bronze.