Passing Away of a Tireless Social Worker
by Maqbool Ahmed Siraj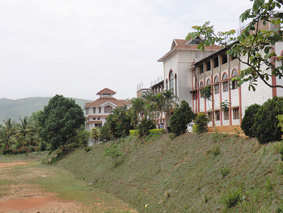 Azra Mukhtar, the architect of Mountain View group of institutions in Chikamagalur died in early hours of May 22. She was 75.
A woman of grit and steely resolution, Azra and Mountain View institutions were synonyms in the region. A quality institution, the Mountain View School produced great many number of students who are scattered all over the world. Fondly referred as 'Amma', Azra was born in a planter's family. Her father G. S. Abdul Hameed was an MLC in the Legislative Assembly of the old Mysore State in 1945. Hameed groomed the daughter to take up the cause of education. Even while living in the plantation, Azra would roam about the living quarters of the plantation labourers and teach and wash their kids. She did her BA from Maharani's College in Mysore and MA from Maharaja's College.
Back at Chikamagalur, she started the Mountain View School in 1962 with eight students. She married planter Mukhtar Ahmed in 1964 and found in him a pillar of strength. The duo poured in all their resources. An English medium school, it attracted students from all communities. Several local legislators, teachers and engineers owe their position to the sound coaching and footing their received in the Mountain View School.
Brought up with sweat and toil, Mountain View School today stands as monument of her Dedication, Determination and Devotion, '3-Ds' that Azra says were hallmark of her struggle. Today the school has over 2,000 students and even offers residential facilities for girls from distant locales. Having shifted to its sprawling 40-acre campus in Vidyanagar in the foothills of the Kemmangundi Hills, a string of institutions have mushroomed around it. Azra and her daughter Habeeba have added a degree college, an ICSE school and a Home for the Aged in the picturesque campus. They also set up Sarvodaya School in the downtown area of Chikamagalur for the children from the underprivileged communities on the basis of cross-subsidy.
Asked in an interview three years ago as to what motivated her in those years of struggle, Azra told this scribe, her brother in law and noted historian, Dr. Sheik Ali, former vice chancellor of Mangalore and Goa Universities, was a constant source of inspiration. He guided and supported her at every step.
Commanding wide respect in the region, Azra was presented with the Rajyotsava Award in 2011.
In her death, the community and the Chikamagalur town have lost an eminent social worker who worked tirelessly for the cause of quality education. May her soul rest in peace. Ameen!