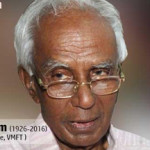 By Kayamkulam Yoonus
Veteran educationist, scholar, thinker, writer, activist and former Pro-Vice Chancellor, University of Kerala Dr. N. A. Karim passed away in Trivandrum on Feb. 4. He was 90. He was born at Edavanacadu, near Kochi on 15th February 1926. He was expelled from the Maharajas College Ernakulam for hoisting the national flag while he was a graduate student. He later completed his Degree from the then newly started Farook College at Calicut under the guidance of his uncle, the Late Seethi Sahib, who later became the Speaker of Kerala Assembly.
Karim started his career as a journalist in Chandrika Daily alongwith C.H. Mohammed Koya, who later became the Chief Minister of Kerala. After a small stinct as tutor in Farook College, he moved to the Aligarh Muslim University for his post graduation in English. He served as a lecturer at the AMU and still later in Jamia Millia Islamia at Delhi. Following this, he was appointed lecturer in the Department of English in the University of Kerala. He became the first Dean of students in the Calicut University from where he was elevated to the Pro-Vice Chancellorship of the University of Kerala where he served two consecutive terms. But, he was never chosen for the post of Vice Chancellorship due to his ideological differences and firm stand on principles. He had further served as Director of Academic Staff College, State Resource Centre etc. In fact, Dr. Karim's name became synonymous with ideology, principles and deep sympathy towards the marginalised and downtrodden by his social activities after his retirement from Government Service. He was one of the great men who was instrumental in the achievement of complete literacy by the State of Kerala. He was Director of Kerala Association for Adult and Non-formal Education (KANFED) for quite some time. He travelled the length and breadth of the state for the purpose. He was closely associated with the establishment of many Muslim Higher Educational Institutions. Dr. Karim guided the policy making process of education in Kerala, but expressed his disagreements as and when it derailed. Such was an occasion, during the implementation of DPEP in the curriculum. He had been conferred with several awards including P.A. Syed Mohammed Foundation Award, Sir Sayyid International Award, K. Pankajakshan Memorial Award and T.A. Majeed Memorial Award, to cite a few. He has authored several books and published a huge number of articles in various national and international journals. Dr. Karim's body was buried in the Palayam Juma Masjid, Trivandrum with full state honours.