Obituary – M. G. Sabir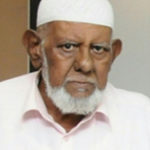 Bengaluru: Mohammed Ghouse Sabir, vice chairman of the Bismillah Education Trust (BET), passed away on March 28 after a brief illness. He was 75. Sabir devoted his prime years to set up a string of schools and colleges under the BET, which currently has a secondary school, a PU college and a women's degree college. Several skill-based courses are also being conducted in the campus under the aegis of Karnataka Skill Council.
Mr. Sabir worked in the HAL and began to take interest in social activities and started a school in Bismillah Nagar, in southern Bengaluru, and later devoted much of his time to nurture the institutions. He, along with several of his colleagues, exerted utmost energy and time to set up the Bismillah Graveyard on the Jhigani Road and had willed that he should be the first person to be interred therein upon his death. He, along with Mr. Syed Tahsin Ahmed (KAS retired), strove hard to collect funds for purchase of eight acres of land on the Road to Jhigani Industrial Estate for the graveyard. He had willed that he should be buried in the Bismillah graveyard, and his desire was fulfilled as his was the first grave to come up in the cemetery. He is survived by his widow, five daughters and two sons. One of his daughters predeceased him.