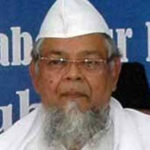 Bengaluru: Maulana Mufti Ashraf Ali, 77, muhtamim of the Darul Uloom Sabeelur Rashad passed away on September 9 in Bengaluru after brief hospitalization. He was 77. He was buried the next day in the campus burial yard besides his father Sheikh Abu Sawood Ahmed, the founder of the madrassa. Mufti Ashraf Ali was founding member of the All India Muslim Personal Law Board and general secretary of the Milli Council.
Hundreds of his disciples are carrying on duties as imams, khateebs and mudarris (teachers) in mosques of Karnataka. They attach 'Rashadi' as a suffix, denoting their association with the Darul Uloom as is the convention with several madrassas.
Jama Masjid. It was to be formally launched on September 16 in Bengaluru. He also edited Persian classics such as Pandnamah, Guftagunamah, Chehal Sabaq which have been published from Al-Musahif Publications, Bengaluru.
His son Mohammad Muaz Rashadi was appointed the new muhtamim by the advisory council of the Darul Uloom Sabeelur Rashad which met after his funeral was over.