Goolam E. Vahanvati
First Muslim Attorney General of India Goolam Essaji Vahanvati died in Mumbai on September 2 at the age of 65. He had resigned his post on Mau 27 after the new Central Government was sworn in.
Prior to his appointment as Attorney General in 2009 by the UPA government, Vahanvati had served as Solicitor General of India and Advocate General of Maharashtra Government. He is survived by his wife and son. He was suffering from lung infection for some time.
Cricket Academy by Pathan Brothers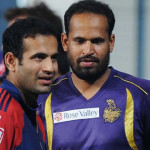 Vadodara: Cricketers and brothers, Yusuf Pathan and Irfan Pathan launched their Crircket Academy of Pathans here on September 11. The Academy will run two courses, preliminary and advanced. The former will take eight to nine weeks. Three more branches are proposed to be set up in leading cities by next year. They plan to hire former coach of the Indian team Greg Chappel for imparting of training to young cricketers.
Mumtaz Ahmed Khan Awards Presented
Bangalore: Dr. Mumtaz Ahmed Khan Awards were presented to Dr. Aslam Ahmad of Al-Ameen Hospital, Bangalore; Maulana Md. Idriss Umari,, Dr. Anita Nair, HoD, English, Al-Ameen College, Edathalla, Kerala; Mrs. Shamla, Principal, Eddappalli Al Ameen Kindergarten, Kerala; and Mushtaque Ahmed, social Worker, Tumkur on September 7 on the eve of the Founders Day celebrated here on the birthday of Dr. Mumtaz Ahmed Khan, founder Al-Ameen Educational Society. The awards were presented by Janab Zahid Ali Khan, Editor, Urdu Daily Siasat, Hyderabad. Hazrath Bibi Khadija Awards were presented to Sabia Begum, wife of Mr. Nurul Islam of Al-Ameen Talimi Mission, Kolkata and Anzu Ara Khanam, wife of Muhammad Hussain Ismail, Al-Ameen School, in Assam. Ismail has set up several schools in Assam while Anzu Ara Khanum has been assisting her husband.