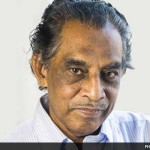 Singapore: The prestigious South East Asia Writers Award was conferred on Tamil writer Jamaluddin Mohammad Sali, better known as J. M. Sali on December 12. The 76-year old writer born in Madras has been writing for nearly 50 years.
Better known as J M Sali, the author has written 57 books, 80 plays and more than 400 short stories including Vellai Kodugal (White Lines) Alaigal Pesuginrana (the Sound Of The Waves) that are now studied by Tamil Literature students in Singapore and Indian universities.
He was invited to Singapore at the age of 1964 to join the Tamil Murasu, a daily by its owner Sarangapani.
He went on to work for local broadcasting station produced books on famous people including martial art icon Bruce Lee and legendary boxer Muhammad Ali. He retired in 2000 but continued to write and translate works into Tamil.
Started in 1979, the South East Asia Write Awards, or the Southeast Asian Write Awards, are presented annually to poets and writers in Southeast Asia.
The New College, Chennai, has prescribed 'J.M. Sali Short Stories' for its students. While many of his short stories have been translated into English, Hindi and Urdu, one story, 'Sayal,' was also translated in Sinhalese and was published in Sri Lanka. Sali has penned 30 novels, 400 short stories, 200 articles on various subjects and 80 radio and television plays.