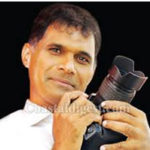 Ahmad Anwar, 55, an ace photographer from Mangaluru,
passed away on October 11. He was suffering from cancer. Anwar won several awards for his p h o t o g r ap h y which captured the nature, festivals, places of worship and events in intricate detail. Anwar hailed from the Beary community and was a celebrated poet in the Kannada language. One of his poetry collections was due for release on December 23.
He worked for the newsportal 'Coastal Digest' for over a decade. He authored three books in Kannada, titled Gul Mohar ('May Flower'), Nanna Kanasina Bharata ('India of My Dreams'), Bharatha Geeta ('Songs of India').
A disciple of ace lensman Shri Yajna, he was also conferred with the Sri Kavi Pejavara Sadasiva Rao Memorial Literary Award, Sahitya Sethu Literary Award and the Attimabbe Sahithya Prathishtana Award in 2010.