Md. Atheeq Ahmed
Noted Social Worker Passes Away
Bengaluru: In the death of Mohammed Atheeq Ahmed, Secretary of the Jama Masjid and Muslim Charitable Fund Trust, the city of Bengaluru lost a sincere social worker. Mr. Atheeq died on May 29, the second day of Ramzan, after ailing for some time. He was 73. He is survived by his wife and five daughters.
Atheeq Sab had an uninterrupted stint of 37 years as the secretary of the City Jama Masjid. He developed a string of modern educational institutions in the basement of the mosque, which include a primary school, a high school and a degree college. He also saw the purchase of a 65-acre plot at Bannikoppa, 35 kms from the city off Mysore Road, for the expansion of Jameul Uloom Educational institutions. The plot currently has Jame Ul Uloom Residential School. Another plot of 3 acres was acquired in J P Nagar for expansion in South Bengaluru area. Mr. Atheeq was also the President of the Salar Publication Trust which publishes the Urdu Daily Salar from Bengaluru.
Tamil Poet Kavikko Dr. Syed Abdur Rahman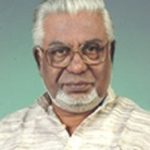 Noted Tamil poet Kavikko Dr. Syed Abdur Rahman passed away on June 2 in Vaniyambadi. He taught Tamil literature at Islamiah College, Vaniyambadi for 29 years. He was 80, and is survived by a son and a daughter. He was conferred with the Sahitya Akademi Award in 1999 for his poetry composition, Alappanai. He also won the State's highest literary award, the Kalaimamani Award, in 1989. He was appointed the Chairman of the Tamil Nadu Waqf Board in 1999. A close friend of former Tamil Nadu Chief Minister K. Karunanidhi, he was also a member of the Tamil Language Promotion Board of the Central Institute of Classical Tamil. He authored almost 30 books and poetry compositions and translated several works of Urdu poet Mohammed Iqbal into Tamil.