Maharashtra Assembly Poll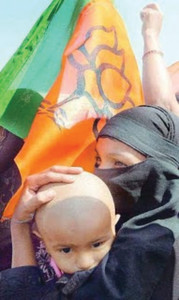 Little chance that Congress would mend its ways.
By M. Burhanuddin M. Qasmi
Mumbai: A clear sign emerging from the elections in Maharashtra and Haryana is that the Bhartiya Janata Party is going to stay in power much longer than the Vajpayee era. By all measures, the party's tally in Maharashtra i.e., 123 out of 288, is a historic one. In Haryana its triumph is a sweeping one (47 out of 90). In both states, the party is putting up old RSS hands at the seat of the power.
The major loser is Indian National Congress which has lost power in both states after having ruled Maharashtra for three terms and Haryana two terms. It has been pushed to the third place in both states, i.e., behind Shiv Sena in Maharashtra and INLD in Haryana. The Congress could have performed better in Maharashtra had it tried to retain its alliance with the NCP, especially when the BJP was confident enough of majority despite its alliance with the Shiv Sena having been broken.
Emotional rhetoric rather than sound pragmatism seems to have influenced Muslim voters. At least one Muslim majority seat i.e., Bhiwandi seat (The city has three seats with one being reserved for ST), was lost due to division of votes among two Muslims candidates. Same was the fate of Mumbra, Kurla, Bandra, Aurangabad and Nanded which either went to BJP or Shiv Sena due to multiplicity of candidates from secular parties.
Previous Assembly had 11 Muslim members. The present has one less i.e., 10. Those elected are: Amin Patel (Mumbadevi), Arif Naseem Khan (Chandiwali), Aslam Shaikh (Malad), Abdus Sattar (Sillod), Asif Shaikh (Malegaon – Central) "" all 5 from Congress, Abu Asim Azmi (Mankhurd) from Samajwadi Party (SP), Hasan Mushrif (Kagal) from Nationalist Congress Party (NCP), Advocate Waris Pathan (Byculla) and Journalist Imtiyaz Jaleel (Aurangabad – Central) "" they were elected on the ticket of All India Majlis-e Ittihadul Muslimeen (AIMIM) and Pasha Patel (Ausa, Latur), the lone Muslim face from the BJP.
Muslim representation would have been little better this time had the Congress and NCP not broken their alliance before elections. Results show that in Bhiwandi, Shoeb Guddu of Congress was leading at certain stage, but due to the votes taken by Rashid Tahir Momin of the NCP he lost the election.
Other losers are Baba Siddiqui, Nawab Malik and Bashir Musa Patel. All three were experienced, former MLAs and senior leaders of their respective parties. They lost the election because their parties could not transfer the non-Muslim votes in their favour.
The emergence of the Hyderabad based All Indian Majlis-e Ittehadul Muslimeen (AIMIM) – the party led by the vocal MP Asaduddin Owaisi is clearly a surprise. The AIMIM contested the Maharashtra election for the first time and had fielded 24 candidates. It could bag nearly half a million votes, won two seats, and ended up as runner up in three.
The performance is good for a debutant party. However it is yet to be seen how this 'Muslim' party is going to help the Muslims in Maharashtra in a highly communally polarized situation.
There is no sign visible anywhere that the Congress can recover from these shocks in near future. The party shows no prospects of better performance in upcoming elections in Jammu and Kashmir, Jharkhand and Assam. Writings on the walls are clear. The saffron party is safe in its saddle of power. There are no immediate challengers to its sway.
Ummid.com adds:
An influential group of Muslims in the state capital Mumbai, has appealed to the community to welcome the new government and open a dialogue to resolve its issues. "It is wrong for the Muslims to treat BJP as an untouchable or for the BJP to treat Muslims as untouchable. We welcome the new government that will be formed in Maharashtra and also the one led by Prime Minister Narendra Modi in New Delhi", said Feroze Mithiborewala, one of the key members of the group.
Feroze was talking to ummid.com in response to the appeal published by the group in Mumbai's leading Urdu dailies.
"The Muslims and people from other backward classes have been exploited by the Congress and other secular parties for long. They always used Muslims as sacrificial lamb. It is the Congress which is responsible for sending to jails hundreds of Muslims in the name of fighting terrorism.
"The Congress has never been serious in addressing the key demands of the Muslims in Maharashtra or elsewhere in the country. Against this backdrop, it is high time for us to have a dialogue with the BJP government both in the State and New Delhi, and give it a chance to resolve ours issues", he said.
Also read edit:' Pointers from Elections'