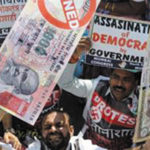 By Akhilesh Tripathi
Special to Islamic Voice
 
Mobilising votes in Uttar Pradesh is an uphill task for any party. Chief Minister Akhilesh Yadav has formidable odds stacked against him. But his major advantage is that the resentment against Union Government's 'Note Bandi' (demonetization) is currently working against the BJP.
Note-bandi has adversely affected the farmers, weavers, traders and small retailers across the state. Looms have fallen silent in several towns as supply chain has been badly punctured. Traders in farmers' mandis are cursing their fate for having produced a bountiful harvest. This scribe found mandis in Rae Bareli and Pratapgarh district deserted. Similar is the plight of artisans whose manufacturing units have come to a halt as supply lines were affected due to non-availability of cash somewhere down the line. Sowing activity in nearly half the state's farms is conspicuous by absence as farmers were left without cash in the wake of note ban. 
Much of the discredit for the note ban would fall into BJP's share. Chief Minister Akhilesh Yadav is of course not sitting pretty. Several of his poll promises have not been fulfilled. On the electricity front, his success has been only fifty per cent. Rural areas still receive electricity for less than 12 hours interrupted by several failures. Water supply is also a pipe dream for majority of rural folks in the state. But he could still be called the more successful among most chief ministers the state has had. Akhilesh Government's Samajwadi Pension could bring in 55 lakh women into its net, mostly widows, old and sick. There was improvement on the employment front too. The Government recruited 70,000 youth in the police. Never before so many people were recruited in the state's police force. 
The law and order situation in the state has never been satisfactory. The crime graph has always been on the rise. But the growth rate of crime has shown some decline. The Government's initiative in instituting helplines (102 and 108) has brought the police nearer to the people. The people can expect police help to reach within 20 minutes in major parts of the state now.   
Akhilesh has special appeal among women and youth. Laptop distribution among students has benefitted lakhs of youth in the state. Nearly one lakh unemployed graduates were recruited as primary school teachers. Similarly, the Government can boast about its performance in providing homes to a sizeable section under Lohia Awas Yojana. 
Akhilesh can no longer be accused of being his father's proxy. He can face the electorate as his own man, responsible for all that he does and says!