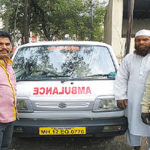 Jahangir has performed last rites of as many as 1,600 people. As he is used to giving gusl, he is also called by people for giving gusl to their relatives.
By A Mirsab
For most people, social activities is defined as work carried out with the aim of alleviating the living conditions of people suffering from social deprivation. They strive for helping the poor and deprived people to live a better life. By this definition, it also implies that social work is for the living. But what about people who are dead?
This question, and the answer to it, is what makes Jahangir Shaikh, a 47-year-old resident of Solapur, an exception. His social activity starts after he finds an unclaimed dead body. Once he discovers an unclaimed body, he assumes its guardianship and lays the body to its final abode. "Initially, I started to give gusl (bath) to unclaimed Muslim bodies on the request of the police. Later, I started doing it for people of other religions too", says Jahangir, sharing his journey of the past ten years, about a cause rarely undertaken by people.
Performing Last Rites
Jahangir, a devout Muslim, first received a phone call in 2007 from a Muslim policeman who knew he could give gusl to an unclaimed dead body. Jahangir rushed to the spot and completed the funeral rites of a fellow Muslim. "That was the first instance after which the devotion for performing last rites of an unclaimed body arose inside me and thereafter I made it a duty to attend such bodies", he recalls.
Jahangir's strange choice of social work initially caught people by surprise, but he never doubted his commitment. "People disliked my work and they would treat me as an inferior individual, but that did not stop me from carrying out the work that I supposed as my duty. I would pray to the Almighty to strengthen me so that people's objections do not hold me back," Jahangir says, when talking about the initial days. His family also strongly objected to this kind of work but he managed to convince them to allow him to continue doing it. "I told them that I don't do it for earning money, burying these bodies gives me pleasure as I became a guardian for them. They felt awkward initially, but gradually they got accustomed ", Jahangir explains how he convinced his family.
Till today, Jahangir has performed last rites of as many as 1,600 people. As he is used to giving gusl, he is also called by people for giving gusl to their relatives. In return, they give him hadiya (gift).
But one might wonder; what is his main profession and source of living? For that, he cooks food in social functions. However, he is always on his toes when he gets to know about any unclaimed dead body either at a hospital or the police station.
Jahangir's dedication to what he called his 'duty', and his sincerity towards this, soon made him famous in Solapur. He started receiving phone calls from police stations and hospitals for burying unclaimed bodies. His amazing sense of kindness towards the unattended also moved many people; a few years ago, a young Muslim businessman, Salman Shaikh took notice of his noble service and donated a second-hand ambulance to help him carry out the work more efficiently.
"I was impressed with his dedication towards the work. The charred and blood-soaked bodies that a normal man does not even look at, he would offer them a bath and bury them", Salman explains about why he donated an ambulance to him.
With some likeminded friends, Jahangir formed the Baitul Maal Shifa Committee, through which he raises funds by collecting zakat or sadqa from people. However, he does not use this fund for performing last rites. Instead, he and friends pay money from their pockets for funerals and use the funds raised for poor patients admitted in hospitals.
"We use collected funds to help patients in buying medicines and other medical expenses", Jahangir says.
When asked if police or hospitals pay him for carrying and burying bodies, he says, "They give Rs 300, but we give this money to the boys who help in carrying bodies to ambulance and dig the ground for burial." For other expenses related to performing last rites: kafan (white cloths) and attar (perfume), Jahangir and his friends spend money from their own pocket.
(Extracted from twocircles.net)