Faisal Nawaz's deformity means he can barely eat much or anything at all without using his ventilator, a life-supporting instrument which helps him breathe normally. Despite this, He aims to empower Muslim Women in Delhi.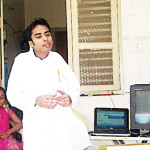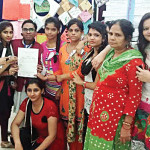 Twocircles.net
Delhi: For Mohammed Faisal Nawaz, time is almost always at a premium. A 32-year-old resident of Jaffrabad, Delhi, Nawaz barely has spare time because he clearly is a man on a mission. Sample this: Nawaz is differently-abled, suffering from polio and scoliosis, a term used to describe any abnormal, sideways curvature of the spine and underwent many life-threatening spinal surgeries. But before you decide to sympathise, stop. Despite these hindrances, his works and achievements can make you positively jealous. He recently joined as an officer in a PSU, he covers news on global disability via an online portal www.abilitykhabarnama.blogspot.com, and scoliosis deformity via www.scoliosisindia.blogspot.com. He has also received recognition from IIM Bangalore- My Choice for Equality- for his efforts.
But the project closest to his heart is the 'Light for Life' which he started in Jafrabad, that aims to help Muslim girls and women focus on health, human rights, education and employment under the banner of Foundation for Indian Integration and Rights (FIIR). Through this project, he has positively impacted more than 100 lives to date and continues to make inspiring interventions to improve the lives of people around his area.
Nawaz Refuses to Sit Idle
Nothing came easy to Nawaz. His disability and his religion helped little. "Since childhood, I was discriminated either because of my disability or because of my religion in Delhi. I was rejected admission in some government school just because I was Muslim and later all my education was completed in Muslim environment/college/university," he told Twocircles.net. Nawaz is highly-educated with dual degree of M. Tech and M.Sc, but to ensure that he completed his studies, he had to sell clothes, sit at public telephone booths, work in a hospital, etc. It is perhaps this which explains why despite having a cushy job at a central government entity, Nawaz refuses to sit idle.
His day begins at 7 45 in the morning, with office hours running till 6 30 pm. After that, he works at FIIR, which is run in a part of his house, and teaches English to the adolescent girls of his area/ students of government school where medium either is Hindi/Urdu. FIIR was started last year with support of its co-founder, Khateeja and later, Faisal was selected for his deep engagement with the community, and after clearing several rounds, for the prestigious Change Loom Fellowship for 2014-2015 ( a one-year youth leadership programme ) awarded jointly by CYC , Pravah and PACS-UK.
Maintaining Etiquettes of Religion
The centre also provides various vocational training courses to women/girls from the area, in the field of stitching, computers and embroidery. Nawaz's mother, along with two teachers, provides the training for these skills, while he handles the English-speaking classes. His deformity means he can barely eat much or anything at all without using his ventilator, a life-supporting instrument which helps him breathe normally. At night, he has to sit and work with the machine on and has to take oxygen daily. When he was being interviewed by Two circles, he had the oxygen mask on, being able to speak only because his lips were out of the mask. All this could break the spirit of many, but not Nawaz. For him, the hope of a better future for the women of Jaffrabad is a bigger challenge for which such sacrifices must be made.
Overcoming Conservative Mentality
"Our area is conservative, with girls barely getting a chance to pursue higher studies. Add to this the challenging living conditions, and it is clear that women have a tough life here," he says. To counter this, FIIR aims to equip women with life skills so that they can think and consider employment opportunities in the city. However, if setting FIIR was a challenge, then overcoming the conservative mentality proved to be even harder. To ensure that the centre is used in an optimum manner, Nawaz devised a smart plan. "We set up an Islamic/Urdu unit first, through which girls easily joined our centre and parents also agreed for sending their wards easily. We followed this with training classes i.e. stitching, computer, beautician, etc to help them take the first steps towards self employment. Later, we started English-speaking classes for girls as they really wanted to learn English. Along with this, we also started non-formal education, through remedial classes unit, so that students attending schools understand their subjects better," he says.
Nawaz understands that in an area like Jaffrabad, religion must not be ditched in favour of modernity; they must be synchronised. For example, to ensure that gender issues do not arise, Nawaz's mother gives him company when he takes English classes for girls.
Despite his frail physical conditions and advise from doctors to leave Delhi for a lesser polluted place, he plans to continue, upgrade and increase the reach of his centre to more students. But isn't he taking a risk with his health? "I am, but I do not worry about that," Nawaz says.