The 5th South India NGO's Conference held in Bangalore last month felicitated Azhar Maqsusi and Yusuf Mukati with the "Social Heroes Award" for the grassroots work they have been doing to make lives of the poor a lot better and brighter!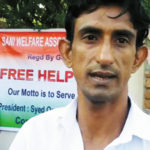 "Homeless people should be clothed and fed, not given money," says Azhar Maqsusi
Azhar Maqsusi, 36, based in Hyderabad, has been through tough times right from childhood. Having lost his father when he was just 4 years old, he watched his mother bring him and his siblings up with great difficulty. "I know what it is to sleep hungry and to go without food for days", says Maqsusi. Having been through the pain himself, he wanted to do something for those who go hungry every day. Seeing that a large number of poor and destitute were going hungry every day in the city, Azhar launched a daily free food camp under the Dabeerpura bridge in Hyderabad and under the Chanchalguda flyover. The programme was launched by Azhar around four years ago when he saw a physically-handicapped woman, Lakshmi, begging near the railway station. "The next day, my wife cooked food for around 15 people and I distributed it near the flyover," said Maqsusi, who has a plaster of Paris interior design business. "I realised that so many people could not afford even a single healthy meal a day and so I hired a paid cook, who sets up his "kitchen" under the Dabeerpura bridge and the Chanchalguda flyover everyday from 1 to pm. Hot and healthy lunch is served to over 300 people, everyday, who are homeless and poor. I personally serve them and supervise everything. One of my well wishers has been contributing 16 sacks of rice every month. A lot of friends have joined in, but I do not accept any donations in money. I only take in kind. I post pictures on Facebook to create awareness that so many people sleep hungry in a city everyday," says Azhar. Azhar can be reached on his facebook: Azhar Maqsusi – Facebook
https://www.facebook.com/Azharmaqsusi1/.