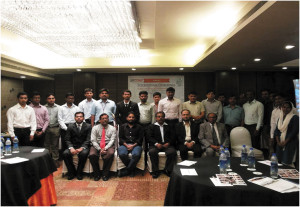 By A Staff Writer
Vijayawada: The Basha Research Corporation (BRCORP) organized a one-day conference here on Renewable Energy and Environmental Engineering in collaboration with Cafet-Innova Technical Society (CITS) on December 29. The Conference discussed the way to develop Vijayawada as the Green Capital of residual Andhra Pradesh.
Prof. Abdul Razak Mohamed, Dean, School of Planning and Architecture said the development of green cities depends on integrating the planning for ecology, economy, heritage, society, and transport. He said Indian cities face a bleak future as development has not taken protection of environment into consideration. Citing the case of Delhi, he said New Delhi produces 3.6 million litres of sewage per day but half of it remains untreated and flows into Yamuna. He said 45% people of the capital were not covered by sewerage system.
Vast Potential
Prof. Shashi Kumar Gupta, Head, Civil engineering, K. L. University, Vijayawada, said only 16% of the world energy needs were being met through renewable energy currently. He suggested India to go for energy mix as it has renewable energy potential of 2.5 lakh MW with only 32,200 MW installed capacity. Dr. Ambrose A. Melwin from National Chemical Laboratory, Pune focused on potential for developing Hydrogen fuel for future which requires drastic changes in transportation and distribution pattern.
Mr. M. A. Siraj, journalist, who regularly writes on civic affairs and energy in The Hindu, pointed out that the Jawaharlal Nehru Solar Mission is targeting at 22 GW of solar power by 2022 while the installed capacity at the end of 2013 was 2.6 GW. He said the country needs a new policy framework for producing PV cells for solar panel as well as parabolic mirrors and power blocks for CSP technology indigenously. He said though India started early in solar technology, almost 50 years ago, China had stolen the lead and was already producing 20 GW of solar power besides pursuing a target of 34 GW by 2015.
70 Research Papers
The Conference received around 70 research papers on various aspects of renewable energy. Of the 17 presentations made at the conference, the following were adjudged the best: K. Anantha Narayan, Chennai (topic: Regional Energy Planning based on potential of solar PV based electricity for households in Gudiyattam block of Vellore district); Sainath R. Navale, (Drying of Fenugreek by cabinet solar dryer); Pavan Pandit, Bhoomareddy College of Engineering, Hubli (Numerical analysis of aerodynamics of wind turbine blades); L. Iyyappan and P. Kasinathan Pandian, Tagore College of Engineering, Chennai (Identification of Potential Wind far sites using interpolation technique with image processing for Tamil Nadu); and, Akhil Patil, (Performance studies on hybrid solar-wind power generation system).
Dr. Raju Aedla of Cafet-Innova Technical Society, chaired the conference. Mr. Ashish Ramesh Jaggi, Research Coordinator, proposed a vote of thanks.
The "‹Basha Research Corporation (BRCORP) is a conglomerate of the Basha Group which is managed by the Basha Family. It was founded by Dr. Ranipet Hafeez Basha who is pursuing research in Kumamoto University, Japan. It is headquartered at Singapore and has branches in the United States, United Kingdom, Nepal, Japan and India. It publishes research journals in several discipline of science and engineering. For more details contact Prof. Ranipet Hafeez Basha, [email protected], address:
Basha Research Corporation (BRCORP), H. No 5-5-973, Plot No 12, Hakeemabad Colony, Chintalkunta, Hyderabad – 500 074.