Members from diverse walks of life gather to discuss issues affecting the community in Karnataka.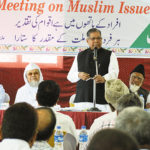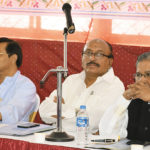 By A Staff Writer
Bengaluru: Former Union Minister and Rajya Sabha MP, Dr. K. Rahman Khan called upon Muslims to put their act together to remove educational and economic backwardness and disparity. At the 'Consultative Meeting on Muslim Issues' convened by him on February 11 at the Hameedsha Complex in the city, he said Muslims needed to deeply introspect and give up inefficiency, laziness, rivalry leading to each other's destruction, jealousy, and mutual antagonism.
Teamwork
Dr. Khan, who was a leading light of the Al-Ameen educational movement and founder of several institutions for education and economic betterment, called for teamwork and substantive action by all within the community. He said the Al-Ameen College was set up by a handful of people who were sincere and honest in their mission. Similarly, the Amanath Cooperative Bank was established with only Rs. three lakhs in hand. "It went on to become the best cooperative bank in the State, but lost its position due to some corrupt officers who sabotaged its development. Similarly, the Al-Ameen Hospital was started with almost no funds but only a patch of prime real estate in the City", he reminisced.
Empower Yourself
Dr. Khan said Muslim social activists who were in forefront in demanding implementation of Sachar Committee report were found to have not even read the report. He stressed the need for training a second line of leadership in every sector of life. He lamented the lack of interest in working for others. "All that one thinks is to empower himself and the community to which one is affiliated," he remarked. He appealed to Muslims to give up sectarian differences and mutual antagonisms on this basis and start focusing on issues like education, economic betterment and entrepreneurship.
Listed Companies
Dr. Khan said there were 3,500 listed companies in the Bombay Stock Exchange and only around 15 were Muslim owned companies. If looked from the angle of share in population, Muslims should have 400 of these companies under their ownership. "But companies or business establishments cannot be demanded. They are result of private enterprise," he quipped.
No Debate on 3 Talaq
Speaking in his concluding address in the evening, Dr. Khan commenting on the issue of three talaq, said that the leaders of the Muslim Personal Law Board do not want to engage in a debate. He said he invited them in Delhi to know the rationale for it, but got no convincing reply. "They may insist on the fiqhi position of the three Talaq, but we the members of the Parliament have to face the questions in the House as to where the Holy Quran mentions the three talaq."
Dr. Khan said law-making was an elaborate process and several think-tanks and lobbies chip in to the process with their inputs. The 4% reservations for Muslims could not be legally challenged in Karnataka as the Government then (in 1994) had done the sound homework by conducting a house-to-house survey of 10 lakh minority households. (Dr. Khan had headed the Karnataka State Minorities Commission in that era and conducted the survey.) In other states, similar reservation was challenged as no proper homework was done and legislation was passed.
He endorsed the plea by Mr. Maqbool Ahmed Siraj to set up think-tank to take up issues facing the Muslims. He said only intellectually resourceful people can provide the leadership, not the status-quoists.
Mufti Ashraf Ali
Maulana Mufti Ashraf Ali of Madrassa Sabeelur Rashad appreciated the efforts of Mr. Rahman Khan and stressed the point that differences among various sections should not lead to opposition and disunity. He called for inculcation of tolerance, broadmindedness and magnanimity, and said that a believer is one from whom others feel safe. He said this applied to other communities too as Islam terms all people as the 'Family of God'.
Roshan Baig,
Karnataka Minister
Karnataka Minister for Urban Infrastructure Mr. R. Roshan Baig said the situation was very serious in the country as communalism was penetrating all the corners. Muslim youths were being arrested on false charges. He urged a rational approach on issues like three talaq. He said, "We feel embarrassed when non-Muslims ask whether divorce could be sent through sms and what'sapp."
Hanif Afsar Azeezi
Mr. Hanif Afsar Azeezi, imam of the Beoparian Mosque, said the community has not taken up the task of preparing second-line leadership. Old men predominate, whether it is Central Muslim Association, Muslim Orphanage or Al-Ameen Education Society. They are not willing to vacate the position and groom the youth. The imams in mosques have to speak according to prescribed khutbas. Any digression from the script earns them dismissals with newer aalims ready to replace them. If there is a member in the mosque committee who indulges in interest-based transactions, he insists that Jumaa sermon does not focus on prohibition of interest.
Maqbool Ahmed Siraj, Journalist
All those who want to assert, focus on gathering of knowledge and documentation of information. They have think-tanks to discuss and deliberate on new issues, laws, legislation and trends. Muslims have no such mechanism. Muslim youth take up only tech-savvy courses and prefer to go to Dubai and Riyadh and return only when they are left with no energy to serve the community. Struggling courses and occupations like journalism, chartered accountancy, law, banking, cooperatives, political science, economics and social sciences are shunned. The Muslim population in the State has only 3% graduates while the general population has 6% graduates. Ninety percent Muslim students dropout between first and tenth standard. Muslim representation in the State Assembly has hovered around 12 (out of 224) i.e., around 4% when they should ideally have 30 members. No Muslim could be elected during the last three or four Lok Sabha elections. The small Nayak community of Scheduled Tribes (STs) have 16 MLAs. Of the 395 students in National Law School of India University (NLSIU), Bengaluru, only three were Muslims, while there were 65 belonging to SCs, 30 to STs, 15 from Sikh community. "We need to change our priorities", he remarked.
The conclave decided to hold such meetings in Mangaluru, Kablurgi (Gulbarga), Hubbali / Belgaavi in due course and chalk out a course of action for future programmes.