Lest we forget the contribution of the young volunteers who have come forward to help the COVID victims, here are a few of them. Read on-
Mohammed Nabeel, aged 21, is pursuing his third year of engineering, and he has devoted his major part of his time to help COVID victims. Talking about his purpose of joining the Mercy Mission amidst the raging second phase COVID, he said, "I am already running an NGO called Daal Chaawal for the last few years. I was motivated by Tanveer, sir, to join Mercy Mission. It feels like living a life with a purpose by helping people when they need us the most."
So, how does the family react to his decision to join Mercy Mission at this hour? Nabeel replied, "my parents supported me, and my mother is a doctor, so it was not difficult to convince them. I take all required precautions, like sanitizing before reaching home and taking multivitamins. That is all." Speaking about his experience with MM, he says, "I work both for transferring patients to hospitals and burying victims' bodies as per their customs. I have performed more than 40 last rites till now.''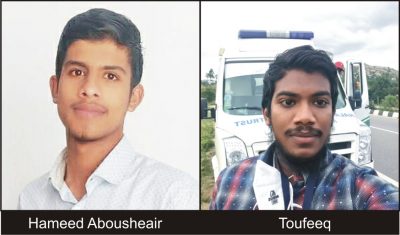 Yet another volunteer Hameed, 18 years old, is associated with Mercy Mission for the last few months. Hameed tries to create a perfect balance between his life as a social worker and as a son. As he puts it, "I lost my mother two years back, and my father also cannot move much due to heart ailment. So I have to look after my father also at home. But, since I have been doing social service since the age of 14, I managed it." He further adds, ` When my friend's father died due to COVID, I helped them in every way I could and also helped them during his burial. So, slowly and finally, I got actively involved in helping the families and giving respectful farewell to the victims."
Hameed was contacted by MM when few daily newspapers wrote about his services. `I got a call from MM, and then I continued my work with them." He expressed his concern over the scarcity of volunteers as he says, "we need more volunteers to come forward and join the Mission for a noble cause."
Toufeeq, aged 17, is working for Mercy Mission for the last year. "I joined MM during the first wave of COVID. When I saw the bodies being dumped in the pit on social media, I was quite disappointed. I wanted them to get a respectful burial. Soon, I came to know about Mercy Mission, and I joined them." Talking about her family's response, he says, "initially, I told them that I am engaged with the food distribution work, but later when the truth was out, they were quite concerned about my safety. I convinced them somehow. I self-quarantined myself for few months and then started leading a normal life with the family, as it became my daily job".
Speaking about his experience in these two phases of COVID, he says, "I have performed last rites for more than 300 bodies. At first, I was scared but slowly learned to handle the cases."
Lastly, Nadeer Delvi concludes, "We do it to please our Creator."
God forbid, but what if the third wave of COVID hits the city? "Mercy Mission is prepared" concluded Toufeeq.