"Anyone who has been living here for many years should have the right to practice his religion in a proper way," said Sultan Al Dhaheri.
In a move that echoes the aims of the country's Year of Tolerance, Abu Dhabi has announced its plans to legally recognize 19 non-Muslim places of worship across the emirate. The decision was made in a bid to assist the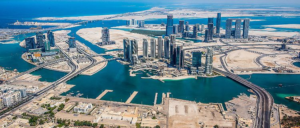 day-to-day running of the religious institutions which will now be regulated by the Department of Community Development.
Speaking at a news conference recently, the executive director of community participation and sport at the department, Sultan Al Dhaheri, said:
"Previously, such bodies were not officially recognized by the law. Now, these places of worship will have a point of contact in government to address any issues over their day-to-day operations."
"We have met with their leaders and explained to them the guidelines and we will be holding workshops for them. We have a partnership relationship with them and are working side by side," he added.
Al Daheri also explained that the UAE's welcoming of other faiths is nothing new.
"[Non-Muslim] houses of worship have long existed in the country; the first church existed even before the union [of the UAE in 1971], so for more than 40 years," he said.
"Anyone who has been living here for many years should have the right to practice his religion in a proper way," he stressed.
At the time being, there are 17 Christian churches of varying denominations across Abu Dhabi, in addition to one Gurdwara. A Hindu temple in the capital is also set to open for worship in 2020 after it was granted an official license.
The UAE has been serious about promoting coexistence and tolerance. In 2015, an anti-discrimination law was passed in the Emirates in an effort to prevent any behavior that could potentially spread discrimination within the community. Under the law, any act that triggers religious hatred "through any form of expression, which covers speech and the written word, books, pamphlets or online media" is prohibited.
The UAE is also considered the first country to have a minister of tolerance, a day (Nov. 16) dubbed "International Day for Tolerance," and a year dedicated to it. In December 2018, Sheikh Khalifa bin Zayed declared 2019 as the Year of Tolerance. Recently, the first Christian site to ever be discovered in the UAE was opened to the public. In February, Pope Francis visited the UAE for a 48-hour trip, marking a historic moment for interfaith relations in the Gulf state.
The UAE is home to expats from around the world and includes many houses of worship where people can freely practice their religions. There are 40 churches in the country (including those in Abu Dhabi) up from 25 in 2005. There are two Hindu temples in Dubai and a Gurdwara.