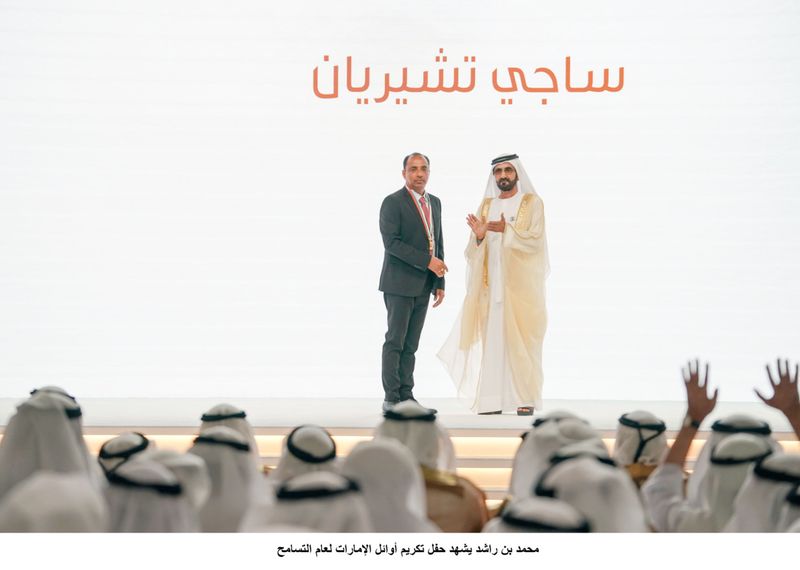 The United Arab Emirates has bestowed its 2019 UAE Pioneers Award to SajiCheriyan, a Christian businessman from Kerala who built a mosque for Muslim workers.The winner was recognised, among others things, for promoting the values of a tolerant society and cohesion in the UAE.UAE Prime Minister and Dubai Emir Sheikh Mohammed Bin Rashid Al Maktoum personally handed over the prize to the Kerala businessman in a ceremony held recently.
In accepting it, MrCheriyan said: "I thank this country and its leaders profusely. I am so happy that I could do something in return for this country that gave me so much in my life.""This is something beyond my imagination. This is beyond what I could ever achieve," he told Gulf News.His wife Elsy, has been his inspiration and devoted companion. "This is definitely the proudest moment in our lives. When we did all this, we never expected anything in return," she explained."God," she added, "has given this in return to us. God has blessed us so much and chose my husband for this great honour. We feel really blessed."
A father of two and an Orthodox Christian, SajiCheriyan hails from Kayamkulam, a city in Kerala. He moved to the UAE in pursuit of business opportunities in 2003.In 2017 he began the construction of the mosque in the East Ville residential complex, near the Al Hayl industrial zone, in Fujairah.The building was completed in 2018 at a cost of 1.3 million dirhams. It has a capacity for 250 people inside and 700 in the outdoor courtyard.
Cheriyan named the mosque Maryam Umm Eisa ('Mary, Mother of Jesus').
For Anglican Christian priest Reverend Canon Andrew Thompson, winning the UAE Pioneers award as Cheriyan did, is an invitation for everyone to join the path of tolerance. "The award is a message that there is still hope in this world; hope that we can all live together despite our differences," the senior pastor at St Andrew's Church in Abu Dhabi told said.
Rev Thompson, who has lived in the UAE for more than two decades, has authored a book Celebrating Tolerance: Religious Diversity in the United Arab Emirates, which was released in February 2019 to coincide with the UAE's Year of Tolerance. "The award has reinforced my love for the UAE. It is reminder that in the heart of the Islamic world, this country has opened its doors to people from all backgrounds", he remarked.
St Andrew's church receives about 15,000 worshippers from more than 80 congregations from across the world. It was built in 1984 on a land gifted by the UAE leaders.