St Francis Xavier Church Opens in Salalah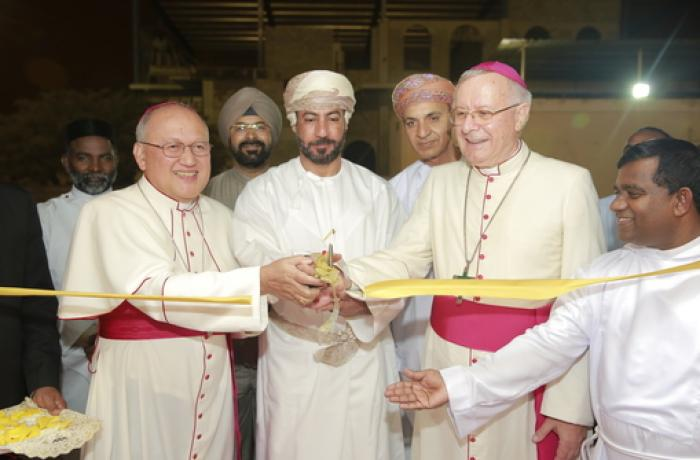 Recently, a thousand Catholics attended the inauguration of the new St Francis Xavier Church in Salalah, Oman, about 10 minutes drive from the city centre. The building has a seating capacity of 600, a balcony over the main altar and a multipurpose hall, for a total capacity of a 1000. Christian and Muslim dignitaries and clerics were present at the first function, including Apostolic Nuncio Archbishop Francisco Padilla, the Apostolic Vicar of Southern Arabia (United Arab Emirates, Oman and Yemen) Bishop Paul Hinder, and Minister of Awqaf and Religious Affairs director Ahmed Khamis Masood Al Bahri. Archbishop Padilla thanked Sultan Qaboos Bin Said Al Said for granting the building permits. "May this new Church be a sign of hope for all of us, a sign that God always walks at our side in good and bad times, even if our prayers are not answered instantly," he said.
In his address, Bishop Hinder acknowledged all those who worked on the project on land granted by Sultan Qaboos bin Said in 1979. In 1981, an ecumenical centre was opened in the same place by Bishop Gremoli, Hinder's predecessor.
The prelate thanked the government for their support and cooperation and offered prayers for the welfare of the monarch and the country. Speaking on behalf of Omani authorities, Minister Al Bahri said that it was a "pleasure" to attend the opening of the place of worship and that he was very happy to share this moment of celebration with Catholics.
Oman is a model among Gulf States, both in the fight against terrorism and in terms of religious freedom. State interference in people's lives in Oman is limited, unlike Saudi Arabia. Overall, Christians are around 6.5 per cent, Hindus 5.5 per cent and the vast majority, around 75 per cent, is Muslim.