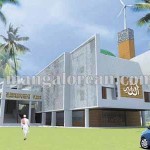 Kundapur: Badriya Juma Masjid in Kodi, Kundapur, Udupi district, the world's first "ZERO Energy" eco friendly Green Mosque was inaugurated last fortnight. The mosque pioneered by the Bearys Group who are passionate about sustainable developments is an evolution in Islamic architecture integrating epitomized sustainable technologies. An important feature of this green marvel is that its entire energy requirement is met through hybrid renewable energy, both wind and solar.
Holistic place of worship
"It is our little contribution in India's march towards Sustainable Development, and we hope that the mosque will become a holistic place of worship where people from all over the world will come and pray and find true solace," says Syed Mohamed Beary of Bearys Group. Cooling of the building has been achieved by using elements of nature. The building orientation minimizes solar heat gain. The L shaped building plan and elevated nature of prayer hall, green vegetation and water tanks around it offer a naturally cooled environment. Solar heat reflecting terrace floor laid with white china mosaics and fitted with turbo vents not only keeps the prayer space cool, but also reduces warming of local micro climate. Natural cooling of the building is accentuated by the wind scoop on the 70 feet multifunctional Minaret, from where the Azan, the call for prayer is given, which forces down draft of cool breeze into the prayer hall and also supports the tower structure of wind turbine mounted atop it. Non-conducting glass reinforced concrete jaalis with over 50% openings, maximize natural ventilation and supplement the design effort to reduce heat gain. The builders say they have utilised local resources based on the 'reduce-reuse-recycle-regenerate' principle, and have water fixtures to conserve water. The entire building is said to use only 6 kw power. The construction of this eco-friendly mosque took three years and nearly 2,000 persons can offer prayers at a time at the mosque. "No trees have been felled for the construction of the mosque. In fact, a coconut tree and two mango trees run within its construction," said Mr. Beary.