Rs. 10,000 was presented to each girl for scoring 9.0 GPA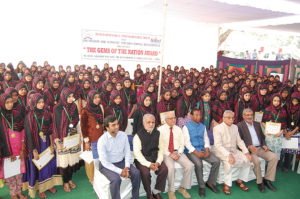 Hyderabad: The Foundation for Economic and Educational Development (FEED) honoured 218 girl students who passed the 10th SSC Board Examination in Telengana and Andhra Pradesh with 90% and above marks on November 13 in the City. Titled 'Gems of the Nation' Award, the girls were presented with a cheque of Rs. 10,000, a certificate and a medal. Of the 218, 17 are non-Muslim girls. A total sum of Rs. 23.98 lakh was disbursed.
Mr. Ghiasuddin Babukhan, briefed about the activities of Trust and congratulated the award winning girls students for achieving top rank GPAs which is the result of their hard work in studies and advised the students to maintain consistency in the merits in future, to achieve success in every walk of life.
Mr. B. Shafiullah, IFS, MD, Minorities Finance Corporation, who was the guest of honor of the function appreciated the efforts of the Trust and praised Mr. Ghiasuddin Babukhan, for his dedicated and selfless services extended towards upliftment of the community for the last 25 years.
Chief guest of the function, Mr. A. K. Khan, IPS, DGP, Anti Corruption Bureau, and Vice Chairman of Telangana Minorities Residential Schools, commended the efforts of the Trust and applauded the tremendous contribution of Mr. Ghiasuddin Babukhan, for such services, by which large number of minority community is benefitted with education and financial support. The Trust also distributed 5,000 blankets (costing Rs. 11.70 lakhs) in 36 Telangana Minorities Residential schools for girls. Subsequently awards were distributed by the chief guest Mr. A. K. Khan, Brig. M. M. Zaki and Mr. Ghiasuddin Babukhan.