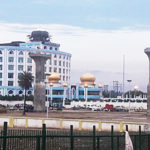 Ghaziabad: The newly constructed Ala Hazrat Haj House for pilgrims from western Uttar Pradesh was inaugurated by UP Chief Minister, Akhilesh Yadav on September 5. The impressive Haj House has come up on the Hindon river on a 4.5 acre plot. It has 36 dormitory halls and five convention halls in six floors and was constructed at a cost of Rs. 57.6 crore. The foundation stone for the edifice was laid on March 30, 2006, but the progress was hindered due to litigation. Following dismissal of the cases, the construction began in right earnest in 2012.
The Haj House can accommodate 2,500 pilgrims at a time. The complex has 10 rooms reserved for office space away from the main building. The parking area can take 100 vehicles.
Though official inauguration took place on September 5, the pilgrims used the facility between August 4 and 20 when nearly 8,649 pilgrims left by 37 chartered aircrafts flying from Delhi International Airport.
The Ala Hazrat Haj House caters to the pilgrims from districts of Agra, Aligarh, Baghpat, Ghaziabad, Hathras, Jyotiba Phule Nagar, Mathura, Meerut, Moradabad, Muzaffarnagar, Rampur, Saharanpur, Shamli, Hapur, Sambhal, Bijnore, Buland Shahar, Firozabad and Gautambudhnagar.