Muslims in Bihar, in a demonstration of communal harmony, have donated land to build the world's largest Hindu temple that will have the capacity to seat 20,000 people.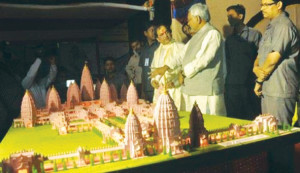 Patna: "Muslims have not only donated land, they have also provided land at a nominal rate for construction of the world's largest Hindu temple. Without the help of Muslims, it would have been difficult to realise this dream project," said Acharya Kishore Kunal, secretary of the Patna-based cash-rich Mahavir Mandir Trust that is undertaking the project.
Kunal, a former Indian Police Service officer said that Muslims came forward to ensure the Virat Ramayan Mandir comes up soon. The construction will begin in June at Janki Nagar near Kesaria in East Champaran district, 150 km from the state capital. It will cost more than Rs 500 crore.
Mumbai-based Valecha Constru-ction Company will build the temple, which will be 2,500 feet long, 1,296 feet wide and 379 feet high.
"It is usual for Hindus to donate land for a temple, but it is unusual for Muslims to donate land for the construction of a temple," he said. Muslims should be lauded for joining hands with Hindus for a pious cause, he added. Kunal said more than three dozen Muslim families have land at the proposed temple's location and some Muslim families have land along the road that connects to the project site.
"Some Muslims donated lands and others helped and supported us to purchase their land for the temple. If Muslims had not come forward, the temple project was sure to have got delayed.," he said.
The Mahavir Mandir Trust has obtained 200 acres. "Hindus and Muslims have donated about 50 acres of land and the remaining has been purchased."
Earlier, some Muslims helped build a temple dedicated to Goddess Durga in Gaya district, while another temple was dedicated to Shiva in Begusarai district. "The temple will be earthquake proof, since it is near the Nepal border," Kunal said.
The Virat Ramayan Mandir will be taller than the world famous 12th century Angkor Wat complex in Cambodia, which is 215 feet high. The complex in East Champaran will comprise 18 temples with high spires and its Shiv temple will have the world's largest Shivling in the world.
The hall facing the main temple with idols of Ram, Sita, Luv and Kush will have a seating capacity of 20,000.
The temple was to be named Virat Angkor Wat Ram Mandir but its name was changed following objections by people in Cambodia.