Senior Secondary School of AMU named after him.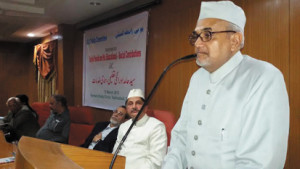 By Abdul Rashid Agwan
New Delhi: Rich tributes were paid to late Mr. Saiyid Hamid, who passed away on December 29, for his spirited leadership and visionary steps at a seminar organised at the auditorium of Hamdard Public School, Taalimabad, New Delhi on March 15 under the aegis of UP Rabita Committee and the Hamdard Study Circle.
Mr. Siraj Hussain, presently secretary of the Ministry of Agriculture and Cooperation, and former VC of Jamia Hamdard recalled the cooperation he received from Mr. Hamid, then Chancellor, during his tenure.
In his presidential remarks, Mr Naseem Ahmad, Chairman, National Commission on Minorities, remembered the days of his association with Saiyid Hamid and found him a resolute person in implementing things he believed with conviction.
Dr. Masood Ahmad, editor, Salam-e-Watan, narrated an incident of Saiyid Hamid's life. He recalled that Saiyid Hamid was invited to chair a public function in Kannauj. He insisted that he would join any such program only when local people succeeded in establishing a school there. Consequently, his local fans worked for almost eight months and finally invited him to inaugurate the school called Humairah Girls School, which he pleasantly did.
Brig. Israr Raheem of UP Rabita Committee recalled his company of Saiyid Hamid during Caravan e Insaaf in 2007 in North India. He said, he (Saiyid Hamid) ignored the personal discomforts and wholeheartedly led the caravan.
Dr. Jamil informed that the Senior Secondary School of the Aligarh Muslim University has been rechristened as Saiyid Hamid Senior Secondary Boys School recently.
Prof. Shakeel Samdani narrated the personal involvement of Saiyid Hamid who, he recalled, wrote all the editorials of Tahzibul Ikhlaq which was revived during his era of vice chancellorship.
Abdul Rashid Agwan underlined the remarkable contribution of Saiyid Hamid in the form of Sachar Committee Report which speaks of his ideas and concerns regarding the development of Indian Muslims.
Other speakers included Mahtab Alam, Amanullah Khan, Dr. S. Farooq, Dr. Ubaid Iqbal Asiam from Deoband, Dr. Shakeel Ahmad from Maunath Bhanjan, Adil Siddiqui from Lucknow and Islam Mansuri from Kannauj.