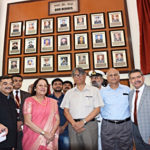 New Delhi: A 'Wall of War Heroes ' displaying portraits of 21 martyr Param Vir Chakra recipients and the national flag hoisted on a 102 feet high pole were inaugurated on June 19 in Jamia Millia Islamia (JMI) by its Chancellor and Governor of Manipur, Dr. Najma A. Heptulla.
A 'Wall of Founders  and Contributors' to the grand old university along with Vice Chancellors overlooking the "wall of war heroes" at the Dr. Zakir Husain Library was also unveiled by Dr. Heptulla, who visited the university for the first time after becoming its Chancellor.  She was accompanied by former Rajya Sabha member and BJP leader, Mr. Tarun Vijay, who conceived the idea of instituting a 'Wall of War Heroes' in various central universities across the country. 
The portraits of founders and contributors included Mahatma Gandhi, Maulana Abul Kalam Azad, Dr Zakir Husain, Shaikhul Hind Maulana Mehmud Hasan, Hakim Ajmal Khan, Maulana Mohammad Ali Jauhar and Dr. Mukhtar Ahmad Ansari. 
The function was attended by Vice-Chancellor, Prof. Talat Ahmad, Pro Vice-Chancellor, Prof Shahid Ashraf, Registrar, Mr. A. P. Siddiqui, and other senior officials of the university. 
Highlighting her emotional attachment with JMI, being the grand niece of independent India's first Education Minister, Maulana Abul Kalam Azad, whose contributions to JMI as one of its founders are well -known, she said, "An institution that had its humble beginnings in Aligarh has today grown into an impressive university and has kept the promises and ideals fostered by its founders. I salute this spirit of JMI and its founders who set it up on solid bedrock of nationalism and unity in diversity", Dr Heptulla added.
 
Informing the gathering that she was the Chancellor of two universities in Manipur, she said that she would like to connect JMI's coveted AJK Mass Communication Research Centre and the Centre for North East Studies and Policy Research with them. This, she added, would be in line with Prime Minister Shri Narendra Modi's North East policy and his motto of development for all encapsulated in Sabka Saath, Sabka Vikas.