Dalit women, whether in Haryana or Bihar, remain most marginalized.Muslim women fare no better.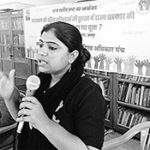 Patna: Savita Ali remembers the time when she was in school, in a village called Naraina, district Panipat. She had just given her Class 10 exams, and like most of the girls in her village, that was supposed to be the end of her education. However, Savita was not ready to give up. Growing up in a family that converted to Christianity three generations ago (she converted to Islam following her marriage) Ali knew that despite her religion, she was, like the thousands of Dalit families around her, marginalised and without a voice. "As we went to higher levels in education, the number of women students kept dropping drastically," she says, adding, "In Class 12, less than a dozen girls went with me to study; by the time I was in graduation, the number was down to single digits."
A little over a decade has passed on since then, but for Savita, who now lives in Bihar, the reality remains the same: Dalit women, whether in Haryana or Bihar, remain the most marginalised within the marginalised communities, and this is the issue that has made Ali work day and night to work for them, first as an activist and now as an activist/lawyer.
Ali thanks her father, who worked in a bank and acknowledged her wish to do graduation. She took up admission in a girls' college and in 2007 completed her graduation.
Ali has not looked back since then.
In 2007, she joined the National Campaign for Dalit Human Rights. She became a programme coordinator and was involved in training Dalit women, along with conducting various capacity building measures. Within a few months, she realised that there were almost no Dalit women leaders in Haryana, who could take up the numerous issues of assault on women. In 2008, Ali joined All India Dalit Mahila Adhikar Manch (AIDMAM) and started focussing on developing women leaders in the community. She remembers one of her first steps were to get young women to rise up against the discriminations they faced.
My Life was at Risk
From 2010, Ali became much more active once she had acquired a law degree, but that also meant she was at the receiving end of constant threats, including her life. "There were times when I was not sure if I would be mowed down by a car while crossing a road. I was constantly scared, but thanks to my family, I never thought of giving up my work. I was so harassed, that I went into depression and stayed out of Haryana for six months, in UP. However, when I came back, to my dismay I found out that many cases I were working upon had reached an 'agreement' and the culprits had walked free. I decided that day that I will never again leave my cases, even if my life was at risk," she says.
In 2013, she married Safdar Ali from Bihar and moved to Patna. However, the treatment of Dalits in Bihar was no different from Haryana, and to ensure that she keeps working on Dalit upliftment, she joined Human Rights Law Network. After working for two years with the legal research team, she joined AIDMAM again last year, and has been trying to document and fight the various cases of atrocities.
Then, there is the issue of Muslim women, who Ali says fare no better, if not worse, than Dalit women. It is to look after this issue, that Dalit and Muslim women from Bihar have got together to set up Dalit Muslim Mahila Manch, and the organisation will address the issues and problems that the women in these two communities face.
Although Ali has a new home, she continues to work with the same zeal. "Initially, I was a little lost in Bihar, but now I believe that irrespective of what state I live in, the problems remain the same. I will continue to raise these issues. Not everyone likes them, but that does not mean we will remain quiet," she says in a defiant tone.
(Extracted from twocircles.net)