Afaf Raed has won the overall award in the challenge to read 50 Arabic books a year.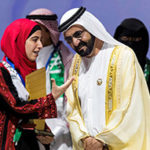 A Palestinian girl has won this year's Arab Reading Challenge ahead of a record 7.4 million participants across the Arab world and with it a prize of US$150,000. Afaf Raed, 17, has won the overall award in the challenge to read 50 Arabic books a year. She finished ahead of the other regional winners: Hafsa Al Thunhani from the UAE; Shatha Al Twaiqi from Saudi Arabia; Sherif Saeed from Egypt; and Bushra Maison from Algeria. Egypt's Sherif Saif finished second and the Eman School in Bahrain won the school prize, picking up US$1 million (Dh3.7m) for its efforts.
The winner's ceremony took place at Dubai Opera and saw total prize money of about Dh11m. It was attended by Sheikh Mohammed bin Rashid, Vice President and Ruler of Dubai. The 7.4 million participants came from 41,000 schools in 25 Arab countries. Afaf, who's in grade 12 at Albera High School in Palestine, said: "We are all winners in the Arab Reading Challenge." Afaf thanked her family and people who supported her during her journey in the challenge. When a judge asked her before winning the prize about the reasons why she read, she replied: "You ask me why I read. However, I ask you why not to read? Reading adds life to our thoughts. Only by words, we are able to solve the community's problems. "Winning the Arab Reading Challenge was not an easy task but I dared to face myself and challenges that might stop me. "I dedicate this win to Al Quds and Palestine." Afaf said that she plans to study medicine in the future.