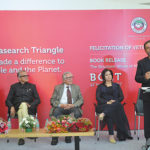 Bangalore: "The ethics and unique concepts being followed by the Beary's Group in the construction industry will go a long way in contributing to the development of the state in particular and the country in general, and are a source of inspiration for others, said Dr. Subhash Kuntia, Chief Secretary, Karnataka government. He was speaking as the chief guest at a ceremony to unveil the "Specialities of Bearys Global Research Triangle" (BGRT) and felicitate various experts from around the country, in the construction industry, at the BGRT in Whitefield. "The projects taken up by the Bearys Group are known for innovative features. I have witnessed a number of projects of this Group that are eco-friendly and mostly use naturally available materials. They are inspired by nature " Dr. Kuntia said.
"Unbridled industrialization over the decades has resulted in an unwelcome development, called global warming. At this juncture, to avoid enormous stress on the environment, the concept of green buildings holds the key," he said. Praising the design of the BGRT , Dr. Kuntia said that 84 percent of the building space was usable and water consumption cut by 74 percent, besides saving 54 percent of power.
Mahendraraj, Chief Structural Consultant of Mahendraraj Consultant, New Delhi, who was present on the occasion and praised the work ethics of Syed Muhammed Beary, Chairman of the Bearys Group. "He is a man of calibre with a kind heart, who treats everyone with respect. His mission is not to amass wealth, but to contribute to the field of Research and development in the country," he said. In his introductory address, Syed Muhammed Beary, Chairman of the Beary's Group, said that the group had taken up the BGRT, a Rs 180 crore project, with just Rs 2-3 crores in hand.
'The Structure: Works of Mahendraraj', a book compiled by Vandini Mehta, Rohitraj Mehendiratta and Aerial Huber, was released on the occasion. A short film on the innovations in BGRT, directed by Abhaya Simha, was also screened. N. M. Saleem, chief architect at N.M. Saleem and Associates, Manoj Ladhad, Sandeep Jagadeesh, architect and interior designers from Bangalore, Mujeeb Ahmed and Lalitha Tharani, both from Collaborative Architecture, Mumbai, were honoured with the replica of BGRT.