Bowl with Arabic inscriptions is being claimed as begging bowl of Buddha.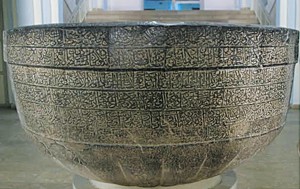 New Delhi: A team of epigraphist led Dr. G. S. Khwaja, Director of Arabic and Persian Epigraphy and Numismatics will visit National Museum of Kabul to examine if the 'Begging Bowl of Buddha' kept there is indeed begging bowl of Buddha. The team was constituted by the Archaeological Survey of India following demand from Member of Parliament, Raghweer Prasad Singh (RJD) that the bowl on display be brought back to India as it rightly belongs to India and should be reclaimed as part of the lost heritage. The team will try to decipher the inscriptions on it to arrive on the result if it belonged to the Buddha.
Minister of Culture, Government of India had replied that it is to be examined that if really it is the begging bowl of Gautam Buddha or not because as per the report of the curator of Kabul Museum, it bears an Arabic and Persian inscription on the outer surface of the stone bowl. It measures nearly 5 feet in height and 6 feet in diameter. Was it a possibility that Lord Buddha carried this heavy bowl to fetch bhiksha? In the paintings in Ajanta and elsewhere, Gautam Buddha has been depicted as holding the bhiksha-patra  in hand that must have been nearly one feet or 18 inch in size and that too of some metal.
In the Cunningham Report, it was stated, that a begging bowl was taken away by Kushan King Kanishka to Afghanistan.
The Archaeology Department of Afghanistan reportedly says that it is not the said patra. This huge vessel is of stone and said to have been in use for storing water for ablution in front of the Jama Masjid at Qandhar, another city in Afghanistan. Zahir Shah, the then King of Afghanistan, brought it to Kabul museum for better state of conservation of this antiquity.
When Taliban activists had blown up the great statues of Buddha at Bamiyan, they also wanted to destroy this vessel, but the Arabic inscription on it was the factor which saved it from destruction.
Dr. G. S. Khwaja, Director of Arabic and Persian Epigraphy and Numismatics, has been selected to be the expert in the delegation. Dr. Khwaja is Head of the Epigraphy wing of ASI. This is the only institution in India, which deals with medieval epigraphs and coins. He is an authority on Islamic calligraphy and Islamic Architecture.