Sufi Comics
Some youth from Bangalore have teamed up together to impart a new mould to the sufi teachings through comic strips.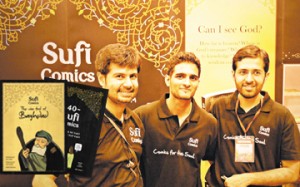 By Maqbool Ahmed Siraj
Sufis were men of piety and wisdom. Much is known about their piety but wisdom remains wrapped in obscurity. With reading habits plummeting by the day, few of us have patience and time to look into the malfoozat (documented literature), Irshadat (sayings) and maktoobat (letters) from these Sufis. Most of the volumes of this extant literature gather dust in the archives of their hoary hospices and madrassas. The younger generation, hooked as it is on cartoons, electronic gadgets and browsing devices, has little patience and time to dust off these volumes and access the treasure of knowledge, let alone striving to extract wisdom. They often would insist on audio-visual clips and nutshellised formats.  Little effort has been invested in this direction. Consequently, much of this wisdom stays beyond the reach of the modern day youth. 
But thanks to two brothers, Mohammed Arif Vakil and Mohammed Ali Vakil, some of this distilled wisdom is now accessible through comics. Comics have their own limitation, given the emphasis on hilarity and mirth underlying this genre of expression. The duo had received their basic level Islamic instructions at Madrassa Muhammadiya in Dubai where they spent their childhood. In those days of print journalism, Amar Chitra Katha, Tintin and Tinkle were the only cultural links with home. As they grew up with heavy mythological imagery, they thought of transferring some of their own Islamic cultural heritage to the younger generation. What other medium could suit the purpose better than comics! While content took a few years to shape into the balloons reserved for the dialogue of comic strip, the images had to wait till Ali learnt the art online. Webcasting the early 20 comic strips helped them gain some useful and helpful feedback from readers who propelled the duo into compiling them into a book.
Lo and behold! The first book 40 Sufi Comics came out in 2009 and won wide acclaim leading to a second edition shortly thereafter. Encouraged, the duo began the work on the second collection i.e., The Wise Fool of Baghdad, dedicated entirely to Bahlool, an 8th century figure from Baghdad. Those were difficult times. Tyrant emperors had no stomach for dissent and those who dared to dissent, were put to sword. Bahlool feigned madness and went about teaching wisdom through his antics. Free from culpability, he roamed through the streets of Baghdad, passing even snide remarks against the king and his brutal diktats.
Joining the duo this time were Rahil Mohsin, a full time artist and renowned calligrapher from Bangalore, Muqtar Ahmed. Muqtar has added some ornate plaques of Quranic verses with themes resonating with the wisdom from the historic incidents.
Says Arif, "Drawing of images of holy figures being prohibited in Islam, it is a bit challenging to come up with comic strip i.e., sequential art, involving sages of the past. We have therefore left images of the holy men faceless". Adds Ali, "Some of the episodes are funny too, but it is not merely fun that comes your way. More of it is wisdom, wit, and light humour."             
Sufis spoke sparingly. But whenever they did, they would come out with extremely valuable gems of wisdom, gift-wrapped in an idiom that was simple, riveting, profound and penetrating. The essence of Islamic mysticism lay in imparting to their disciples techniques in crushing the ego, attaining knowledge, developing humility, enhancing consciousness of God, adopting an austere lifestyle, keeping away desires, avoiding temptations, inculcating charity and hospitality, conserving the natural resources, keeping away desires, and imbuing each action of life with sincerity. These sufis, saints and mystics had little by way of material resources. Compassion and love inspired and informed their message. All that they could do was to preach to a small body of disciples who in turn carried their messages far and wide. Credit for Islam's spread to vast parts of the world goes to them rather than the powerful empires that Muslim conquistadors built.
Vakil brothers' attempt to impart new life to this literary heritage and make it relevant to times we live in, has very rightly drawn encomiums from several circles. Last month, Michael Perez, who teaches popular culture at the University of Washington, Seattle ordered for 200 copies of these books. Arif can be contacted at [email protected] or ph: 98452-61092, website: www.sufistudios.com.