Iran has resumed carpet exports to the United States after nearly six years of inactivity. In the last Iranian calendar year (which ended March 2017), Iran exported nearly $90 million worth of carpets directly to the United States.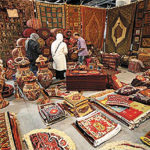 Tehran: Recently, Iran's capital city, Tehran, hosted the world's largest handmade carpet exhibition.  According to Hamid Kargar, the head of Iran National Carpet Center, about 730 companies from across Iran and dozens of carpet traders from across the globe participated in the 26th Iran Handmade Carpet Exhibition." He added, "Among them were more than 90 international businessmen, including 14 Americans and 14 Japanese, who came to Iran for the first time."
The world-renowned Persian carpet, which is widely believed to have been around for more than 2,500 years, is deeply rooted in the Iranian national identity. There is probably no home in the country where at least one rug isn't part of either the flooring or decoration.Iran is the world's largest producer and exporter of handwoven carpets. According to Kargar, "About 3 million square meters of carpets are woven in the country every year, 65% of which is exported to about 80 countries across the globe." A number of antique Persian carpets can be seen in such renowned museums in different countries. This ancient industry has long had a significant share in Iran's non-oil exports. Nearly two decades ago, Iran had a record high export of nearly $690 million worth of handwoven carpets (then 17.5% of total non-oil exports). But over the past decade, the value of such exports has slumped, for various reasons.
Increasing Competition
According to the head of the Iran National Carpet Center, the last decade has been one of the toughest in the history of the Persian carpet industry. Referring to the US-imposed ban on imports of handmade carpets from Iran in September 2010, Kargar says: "The United States is considered the world's top importer of handmade carpets and was Iran's top customer before the sanctions in 2010. At that time, they were importing some $80 million worth of carpets from Iran, which accounted for over 16% of our total carpet exports. So losing such a big customer was a major blow to our handmade carpet industry."
As a result of the US ban, not only did exports of Persian carpets to the country come to a total stop, but the overall value of exported carpets began to decline, reaching a record low of $315 million in the Iranian year of 1392 (March 2013-14). The industry has also seen increasing competition from other countries, which produce either replicas of original Persian designs or lower quality rugs for cheaper prices.
Protect the Rights of Artisans
As a nonprofit governmental organization established in 2003 to support the Persian handwoven carpet industry, the Iranian National Carpet Center has undertaken several measures over the past years to protect the rights of artisans. "We have paved the path for issuing patents to Persian carpet designers," Kargar explains. "We have also registered our handmade carpets in 47 different geographical locations as national heritage with the World Intellectual Property Organization and registered the carpet-weaving craft in the provinces of Fars and Kashan at UNESCO. These measures will deter rival countries from producing fake versions of our carpets."
However, the sanctions and foreign rivals have not been the only causes of the slowdown in the industry. "Economic downturn among Europeans, political instability in several neighboring Arab states and increased risk of doing business with Iran as a result of [other] sanctions have also had their effect on our industry," Kargar added.
But the situation began to change after the landmark nuclear agreement between Iran and the six world powers was implemented in January 2016. One of its articles explicitly called for the removal of sanctions on Iranian carpets. As a result, Iran has resumed carpet exports to the United States after nearly six years of inactivity. In the last Iranian calendar year (which ended March 2017), Iran exported nearly $90 million worth of carpets directly to the United States, making it the top importer of Iranian handmade carpet once again. In the same period, another $270 million worth of carpets were exported to other markets, bringing the total value of exports to $359 million, up from $333 million in the previous year.
As Iran seeks to further diversify its economy and reduce its dependency on oil, attributing greater investment and attention to the carpet industry could help it create jobs, address its unemployment crisis and increase non-oil exports.
While there are some 1 million carpet weavers in Iran, out of which some 700,00 are full-time workers, Kargar says the Iran National Carpet Center plans to create jobs for 20,000 new weavers across the country in the current Iranian calendar year (ending March 2018). "This industry has great potential to further boost our non-oil exports. It is considered a clean and environmentally friendly occupation with very low investment required, and can be set up anywhere without sophisticated machinery. On the other hand, the final product has a very high added value that can be a great source of bringing in foreign money to the country," Kargar says.