Brick Walls by Saadia Faruqi comprise stories that provide us an insight into the lives of the poor and depressed families who despite their woeful circumstances are tenacious, courageous and retain their Islamic virtues while handling life with grace and gratitude.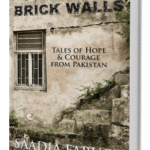 Brick Walls ""Tales of Hope and Courage from Pakistan
By Saadia Faruqi
FB Publishing San Clemente
Fbpublishinghouse.com
Pp200
Reviewed by Moin Qazi
When we think of Pakistan, the images that conjure up in our minds are of a decaying social and moral order marked by violence, extremism, female oppression, sexual trafficking, terrorism and abduction. This book is an attempt to clear these misconceptions and refocus on traditional Islamic values of kindness, compassion, hospitality and a spirit of bonhomie and camaraderie. It demonstrates the strong adherence to these values among poor impoverished societies. It is unfortunate that this wonderful community and its cultural ethos have been shadowed by media's construction of the entire nation as a debased State. Thus behind the façade of this picture of hopelessness , we have communities demonstrating a high degree of humanism. The communities may be poor, but they are wedded to honesty and integrity and are optimistic and resolute in the face of severe hardship and suffering. Adversity has not shaken them and they retain the enthusiasm and love for a decent life.
Brick Walls by Saadia Faruqi is a collection of seven short stories set in Pakistan, featuring a diverse cast of characters. It vividly portrays the traumas of families living at the bottom of the social and economic pyramids. Asma the seamstress in "Angel of Hope", who, in her distress of poverty and her son's ill-health, has lost all optimism for a better life. She has a hope list, on top of which, is a watch for her to keep time with her job at a tailoring shop where she works for a master who is uncompromising on punctuality. The young and impressionable Rabia Malik in "Bittersweet Mangoes", is terribly moved at the plight of the poor and marginalized youth and eventually falls in love with her friend and classmate, Pasha, without bothering for her status or position in "high-society." The apprehensions of the gracefully aged and much experienced Farzana, about her children and her own future is crafted very well in "A Mother's Heart".
In "Tonight's the Night", the main protagonist Javed Gul is a rock star and musician, an unusual profession for the Pakistani youth. He aspires for a young journalist's affections even after being grievously injured. The spurned lover Faisal in "Paradise Reinvented", turns back in the nick of time, thus avoiding committing a heinous crime and turning into a terrorist. Then we have young Nida in "Making the Team". Nida is completely nonchalant about her multiple qualities, be it as a good student or a kind human being. Her heart is set on playing cricket. The manner in which she convinces her elders and peer group and joins her local neighbourhood team is so wise and yet so sweet, that it left me with a smile
The most endearing character for me is the precocious girl, Lubna .She is born in a poor family, but as she grows up, she is fortunate to find a part time home in a wealthy feudal family where her parents work . There is a retinue of servants for various chores, but Lubna decides to spend time with the cook Salma who takes Lubna under her wings and decides to train her. Lubna also becomes friend and companion to Sameera the youngest child in the household. Later as she grows up, Lubna is married to Shahid an auto driver and they have a son Adil Lubna's stars continue to wince as she has a happy life away from her impoverished home until Waseem wrecks her bliss.
Waseem is a typically villainous character given to drinking and gambling. He starts making obscene passes to Lubna who shows remarkable maturity in handling him with great tact and patience Brought up in orthodoxy and grounded in Qur'anic teachings quite early in life, she counters him with typical Muslim modesty..
Slighted at being spurned by Lubna, Waseem lays a devilish trap A heirloom diamond marked for Sameera's wedding is found missing. Waseem convinces everyone that Lubna has stolen it. Mysteriously enough, the diamond is found by the police in Lubna's house. Lubna and Shahid are jailed. Lubna is defended by a young law graduate, Hina but nothing seems to work. Her incarceration breaks her will and determination, and finally she is advised by her friend to start writing a journal which would have a cathartic effect and would help heal the emotional scars. Lubna's innocence is finally proved but in the process a life is ruined.
The stories provide us an insight into the lives of the poor and depressed families who despite their woeful circumstances are tenacious, courageous and gritty and retain their own self dignity and Islamic virtues while handling life with grace and gratitude. They use their resolve to the last ounce to overcome the daily obstacles to their survival. In this battle, their instincts help them best, because one weakness is offset by strength. That is nature's way of balancing out inequities. The texture of these communities is woven through values of honesty, modesty and contentment.
The title is meant to signify the various challenges the characters in the stories encounter. They can be roadblocks in the form of ideological obstacles and hindrances, human impediments or oppressive forces. "Pakistan holds a special place in my heart despite the challenges it presents. Yes, the poverty is deplorable, the politicians are corrupt, and religious strife is troubling. But it is also a nation full of kind-hearted individuals struggling to make their society better with optimism and resolve." the author says.
Saadia explains that people hear about attacks, abusive laws, inequality, and injustice. But, they don't know much about the rich culture of Pakistan or its colorful daily life. Hence, the purpose of her book. Her focus is on letting people know about "a nation of millions working hard during the day, watching television late at night, drinking tea, talking politics, playing cricket on weekends, loving their families, and worshiping God every day".
Brick Walls is not just a compilation of innocent and plain hearted characters with uncomplicated plots. The stories address boldly some of the complex issues that confront the country. The book is a mosaic of a vast range of images and the changing shades of pathos reflected through lovable and enterprising characters woven into exciting stories. The stories are a study in resilience and courage and bring out the inner struggle of women against exploitation and despair. As Faruqi points out in her foreword, "the poverty is deplorable, the politicians are corrupt, and religious strife is troubling." However, these seven stories insist that there is more to this nation than what we see in the news, contributing to a more complex understanding of this large and diverse country.
The book has a helpful glossary at the end. The language is crisp and compelling. The author's gripping narration keeps the reader engrossed and does not allow his interest to sag.