Kamali's reflections provide helpful guidance geared to promoting gender justice, establishing better relations between Muslims and others, and encouraging peace and justice for all.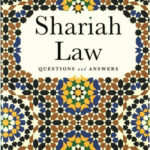 Shariah Law: Questions and Answers
By Mohammad Hashim Kamali
Published by Oneworld Publications, Oxford
Pages: 278
Year: 2017
Price: $ 19.99
Reviewed by Yusuf Khan
Hashim Kamali is a prolific writer on issues related to Islam and is the founding CEO of the International Institute of Advanced Islamic Studies, Malaysia. In this new book of his, he reflects on a subject of considerable discussion""on what Muslims understand, in diverse ways, as the Shariah. This complex and complicated subject is often far from easy to fathom, but using an engaging question-and-answer method, Kamali is able to explain difficult issues in simple form, making the book easily accessible to the 'ordinary' reader, even those readers who have little or no prior knowledge of Muslim jurisprudence.
Sources of Shariah
The book is divided into 17 sections and highlights almost 200 questions related to Shariah and its diverse understandings. Some answers are elaborate, while others are brief, not more than a few pages, or even a few paragraphs, long. The opening sections of the book deal with various sources of Shariah and legal opinion, followed by sections related to various social and political issues. 
Many Muslims seek what they regard as Shariah-based guidance from religious scholars for how to respond to different issues. Kamali does a good job in articulating a more creative and positive understandings of Muslim jurisprudence on several such matters, including issues that earlier Muslim jurists, centuries ago, did not have to deal with. For instance, some Muslims may seek religious guidance with regard to genetic engineering, artificial insemination, surrogate motherhood, and so on, and Kamali seeks to suggest meaningful Shariah-based replies to these questions.
Contemporary Sensibilities
Similarly interesting are some of Kamali's responses, based on his reading of sources of Shariah, on other issues of present-day importance, such as constitutional law and civil liberties, women's rights, democracy, the separation of powers, and status of statutory legislation side-by-side with Shariah, forms of governance, and fundamental rights and liberties. Some of Kamali's perspectives depart from prescriptions of traditional Muslim fiqh or jurisprudence in some very creative and positive, according well with contemporary sensibilities and the requirements of a changing social context.
Kamali responds to some pressing questions that are often raised in discussions about Shariah. Readers may find that some of these answers of his offer a more meaningful understanding of Shariah. Much of the discussions about Shariah today relates to issues related to women's rights, gender relations, Islam, governance and politics, relations between Muslims and others, and the status of non-Muslims according to Shariah. Muslims from different ideological perspectives may offer widely different understandings of these, reflecting their divergent understandings of what Shariah is. Readers may find that Kamali's reflections on some of these issues provide helpful guidance geared to promoting gender justice, establishing better relations between Muslims and others, and encouraging peace and justice for all.
 As with every other book, not every reader will agree with everything that this book says. At the same, it is a useful contribution to a subject of considerable present-day discussion.