The friendship that this book celebrates will powerfully resonate with just about everyone concerned about healing in our world that is being torn apart by divisive ideologies.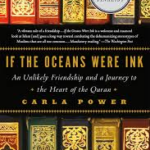 If the Ocean Were Ink""An Unlikely Friendship and a Journey to the Heart of the Quran
By Carla Power
Publisher: Henry Holt and Co., New York
Year: 2015
Pages: 326
Price: $19
Reviewed by Roshan Shah
There is probably no more effective way to demolish walls and build bridges between people than close personal friendships, as this wonderful book poignantly illustrates. It is the story of what many might think to be a very unlikely friendship, between an American woman writer (Jewish on her mother's side, Quaker on her father's, and who identifies herself as a 'secular feminist') and a traditional male Muslim Islamic scholar of Indian origin, as narrated by the former.
Power, who writes for the Time magazine and was correspondent for Newsweek, was introduced to Islam and Muslims as a child, when her father took up a job in Egypt. She renewed her interest in the subject after 9/11, in the face of shrill rhetoric about the alleged 'clash of civilisations' and the wars that ensued. She began to study the Quran, reflecting on the diverse ways in which Muslims interpret it and the different political stances that flow from these interpretations.
Friend of Many Years
In this journey, she turned for assistance to her friend of many years, Muhammad Akram Nadwi, a traditional Sunni Muslim alim or scholar, who had trained at one of India's most well-known Islamic seminaries, the Nadwat ul-Ulema, in Lucknow, and later joined the Oxford Centre for Islamic Studies, in the UK, where Power, too, worked. At that time (this was in the 1990s), Nadwi was engaged in a project that would win him wide acclaim""a collection of biographies of a large number of Muslim women religious scholars, bringing to light a little-known history of Muslim women as religious authorities.
When they first met, Power, as she puts it, was "a mini-skirted twenty-four-year-old, unsure of herself except for her own importance." Nadwi was just a few years older than her. The two worked together on a study on Islam in South Asia at Oxford, and soon, despite their differences of background and belief, they discovered considerable common ground"""in the commonplace", as Power puts it, even in such things as "sipping tea, grumbling about our boss and sodden English winters".
Falsity of the 'Clash of Civilizations'
Over time, Power and Nadwi grew from being colleagues into friends as they grew to realise how misleading generalisations about entire communities can be and how dangerous the rhetoric of elements bent on fuelling conflict between communities is.  Their friendship, as Power beautifully portrays it, exposed the complete falsity of the claim that Muslims and others cannot live together in peace and harmony.
Power went on to spend around a year studying the Quran with Nadwi, attending some of his lectures and having occasional lessons with him. She wanted to learn how the Quran shaped Muslim worldviews and discern where Western and Muslim worldviews overlapped and where they did not. Over that year, Power did scores of interviews with Nadwi and dropped in at his home numerous times, meeting his wife and children, too. She even travelled with him to India, where she visited his ancestral village and the madrasa where he had studied.
Muslim Cosmopolitanism
"We made an odd little caravan, the Sheikh [Nadwi] and I, a pious believer and a skeptical secularist", Power narrates. Her year of study helped Power appreciate ample goodness in Nadwi, as well as in the faith that he sought to follow, which was the source of his virtues. She talks of Nadwi's "humane and educated manner" and notes that he "enjoyed the peace of a man who observed his duty as a Muslim: being a 'slave of God'", which brought him "considerable calm". She appreciates his "cultural scope", that "spans continents", and suggests that his "near-seamless transition from a village prodigy to a global scholar" is a "stunning example of Muslim cosmopolitanism". She refers to Nadwi's kindness, reserve, politeness and patience, and his open-mindedness and respect for differences while being deeply-rooted in his faith. She exults in the fact while being a traditional Muslim religious scholar, he is also committed to women's rights. She writes of his deep spirituality, his insistence on the reform of the self, and his opposition to extremism and violence in the name of Islam, to politics-centric misinterpretations of the faith and to narrowly-inscribed Muslim identity politics. She notes how he regularly counsels his fellow Muslims to ignore provocation, to be patient in the face of adversity, to desist from blindly following religious authorities, to abstain from confrontation, to change themselves rather than seeking to change political systems, and to reach out to people of other faiths in a spirit of goodwill.
Clearly, as Power suggests, Nadwi just does not conform to widely-held stereotypical ideas about Muslim clerics, or even about Muslims generally.
Quran Classes
Power does not conceal the fact that on some issues Nadwi and she think differently. This, however, did not come in the way of their friendship. Studying Islam with Nadwi did not lead her to convert to the faith, but it did help Power gain a more appreciative understanding of it and those who seek to live by it. Learning about Islam provided her, she says, "many moments of grace". "Even as a nonbeliever", she explains, "I still found myself taking refuge in the Quran classes as a calm inlet from daily life." Studying with Nadwi, Power was led to appreciate the beauty of his firm conviction, rooted in his faith, that many of the ups and downs of this world that people get so worked up about "all were nothing next to the fact that from God we come and to God we return."
Goodness is Truly Universal
This book is a beautiful testimony to the power of personal friendships in bringing together people of different faiths and cultures and helping them realise that goodness is something that is truly universal, intrinsic to our common humanness, and is to be found in every community and individual. The friendship that this book celebrates will powerfully resonate with just about everyone concerned about healing in our world that is being torn apart by divisive ideologies.