Muezza and Baby Jaan: Stories from the Quran
By Anita Nair
Published by Penguin Random House India Pvt Ltd, Gurgaon
Price: 699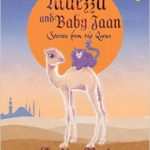 By Staff Writer
Browsing around in a bookshop recently, I was delighted to spot a book based on stories from the Quran by well-known writer Anita Nair. What particularly enticed me to buy it was its very cute cover""depicting a cat sitting on a baby camel in the desert!
Anita Nair is a bestselling and widely-acclaimed novelist. Several of her books have been translated into many languages around the world. For her contribution to children's literature in English, she was awarded the Central Sahitya Akademi Award in 2013.
Reading this book based on themes from the Quran was a treat! It beautifully relates timeless messages in a very reader-friendly, thought-provoking and cheerful style. A baby camel with an appetite for stories and a clever cat who loves to snooze are lost in the unending desert. But they aren't your ordinary creatures, and this isn't the story of just another chance meeting. As Muezza the cat spins tales around the most enchanting stories highlighting spiritual wisdom""such as the creation of Adam, the spite of Iblis, the gift of free will, the ninety-nine names of God, the mighty King Suleiman and much more""Baby Jaan can't help but be mesmerized. Muezza narrates stories about Adam, Prophet Nuh, Prophet Suleiman, Prophet Yunus, Prophet Idris, animals and birds mentioned in the Quran, like the elephant, ant, camel, dog, cow, hoopoe, to Baby Jaan, sitting in the quiet serenity of the desert.
One of the things that particularly impressed me about the book is that it that has been able to bring out the joy, the celebration, the innocence and the spiritual message that the stories of the various prophets mentioned in the Quran have to convey.
This is a book to be read not just by kids""although they may love it""but by others too. It is a treasure, to be kept as a valuable "collector's piece", that can be read again and again, at any time and at any age! It is also a "spiritual offering" as Nair has written it straight from the depths of her heart! It is a beautiful example of how people from different community backgrounds can study, appreciate and write about other faiths, in this way contributing to interfaith understanding and harmony.