Muhammad""His Character and Conduct
Author: Adil Salahi
Publisher: The Islamic Foundation, Markfield, Leicestershire, UK
Pages: 285
This beautiful book deserves to be made more widely read, and a reasonably-priced Indian edition would be a good idea.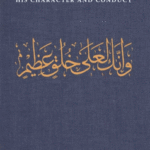 Reviewed by a Staff Writer
Numerous books have been written about Prophet Muhammad (Pbuh). Some of them are in the form of biographies, while others, such as this one, focus particularly on the Prophet's character and conduct. Adil Salahi, author of this brilliantly-written book, is a well-known scholar and writer. For more than 30 years, from 1981 to 2012, he edited the weekly "Islam in Perspective" column for the paper "Arab News".
The focus of this book is on the message and teachings of the Prophet through a study of his personality. After providing a broad introduction to the social environment in which the Prophet was born and brought up, it describes his later years, including the several roles that he played.
Providing instances in the Prophet's life that highlight aspects of his personality, Salahi indicates how the Prophet's life and teachings provide valuable lessons for people for all times. We learn, for instance, of the Prophet's immense trust in God, his gratitude and his humility. We learn, as Salahi tells us, that he "never expressed a feeling of hate for anyone, not even for his most hardened opponents. Indeed, a person could be guilty of a wicked plot against the Prophet, but the moment that person changed his example, the Prophet accepted and welcomed him, entertaining no grudge." We learn about numerous other virtues of the Prophet, such as forgiveness, mercy, generosity, compassion, love, and care, including for children. The Prophet's kindness extended to animals, too, Salahi shows. The Prophet warned against the ill-treatment of animals or tiring them out without giving them enough to eat.
Salahi shows the life of voluntary poverty that the Prophet had adopted. He cites a report from Hazrat Aishah, wife of the Prophet, according to which the Prophet's family did not have enough bread to eat for three successive nights from the time the Prophet arrived in Madinah until he passed away. Hazrat Aishah also reports that whenever the Prophet's family had two meals in one day, one of them was dates.
This beautiful book deserves to be made more widely read, and a reasonably-priced Indian edition would be a good idea. And if the main points the book makes could be summarized and published in the form of a booklet in various languages, it would serve a very useful purpose.