Sachar ki Sifarishen
By Abdur Rahman IPS
Kashyap Publications
B-48/UG-4 Dilshad Extension-2,
DLF, Ghaziabad
[email protected]
Ph: 9313282945, 9868778438
Pages 258, Rs. 210
Reviewed by
Maqbool Ahmed Siraj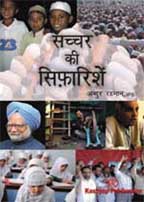 Hindi has emerged as the most widely known and used language among India's 18 national languages. It is also one among the two official languages of the Central Government. Going by this, no official document remains without being translated in Hindi.
Prime Minister Dr. Manmohan Singh had appointed the High Power Committee to look into the socio-economic and educational situation of Muslims in India in 2005. The Committee headed by Justice Rajinder Sachar presented its report in 2006. Since then, it has come to be recognized as the most comprehensive official document on the status of Muslims and has remained as the reference point for any informed discussion on Muslim situation in India.
Mr. Abdur Rahman, an IPS officer of Maharashtra cadre and currently additional commissioner of Police in Pune, has summarized the report in Hindi under the above title i.e., Sachar ki Sifarishen. Rahman emphasizes the point that the book is not a translation of the Sachar Committee report but is a summarization in simple Hindi in order that a common reader could access the content.
The book is divided into 14 chapters, 12 of them""from third to twelfth–carrying content from similar number of chapters of the original report. First chapter, author's original contribution, takes a look at the various reports that highlighted the socio-economic and educational status of Muslims prior to the presentation of the Sachar Report. Short summary of Wilson Hunter's study in 1871, Royal Commission Report in 1886, Islington Report 1912, Alexander Muddiman Commission Report 1924 and Inder Malhotra Documents 1965 provide useful insight into Muslim situation over the pre- and post-Independence decades. What is significant is that issues pertaining to inclusiveness, access to opportunities and social justice were matters of concern for the colonial administration.
Extreme care has been taken in inclusion of tables and graphs. English abbreviations, acronyms and terms have been liberally retained within the Hindi text. Choice of English numerals for statistics too is appreciable. Their translation in Hindi would have made the reading cumbersome. Though the book summarises the report, no information or data having some significance has been left out. In this respect, it must be a valuable addition to Hindi which is fast becoming a medium of research in humanities in several universities of North India. Flawless printing leaves no room for complaint.