By A Staff Writer
Jodhpur: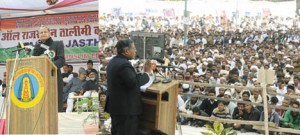 The Rajasthan Government will set up the Maulana Azad National University here in the next academic session. This was announced here on January 14, in the valedictory session of the first All Rajasthan Talimi Conference by Chief Minister Ashok Gehlot. The conference had been organised by the Marwar Muslim Education and Welfare Society (MMEWS) coinciding with the silver jubilee of the Maulana Azad Senior Secondary School at its premises.
Gehlot also inaugurated the Chemistry Lab and the Computer Lab of the school which has been set up with the financial help of the Jodhpur Municipal Corporation. Union Minister for Minority Affairs, K. Rahman Khan laid the foundation stone for the Rs. 83 lakh building of the Muslim Girls Hostel while Gehlot inaugurated the work on the second floor of the Barkatullah Khan Hostel for Boys. The Municipal Corporation will lend the financial assistance for both the projects. Khan said the Maulana Azad Educational Foundation would soon start skill development programme, women leadership programme, and Rajasthan Coaching Centre. Ms. Chandaresh Kumari, Union Minister for Culture said she would recommend direct flights for taking Haj pilgrims to Makkah from Jodhpur.
Chief Minister Gehlot said the Rajasthan Government has sanctioned Rs. 618 lakh for the introduction of modern sciences and computer education in 241 madrassas in the state. He said Rs. 11 crore for Pre-matric scholarships, Rs. 12 crore for the post-matric scholarship and Rs. 325 crore for Merit-cum-means scholarship has been sanctioned for minorities in the State for the year.
The two day conference drew around 25,000 participants during the sessions.
State Health Minister Imamuddin Durru Miyan, Education Minister Brij Kishore Sharma, Minister of State for Education Naseem Akhtar Insaf, State's Minister for Minority Affairs Mr. Ameen Khan, State Wakf Board chairman Liyakqath Ali Khan, Rajasthan Madrasa Board Chairman Maulana Fazle Haq, State Milli Council President, Qaiyum Akhtar etc attended the conference.
MMEWS secretary Mr. Atique Ahmed told Islamic Voice from Jodhpur that the University would initially start working from the Society run campus in the city from June 2013 and would gradually set up its campus in the outlying extensions of Jodhpur.
The Marwar Muslim Education and Welfare Society runs nearly 25 high schools, ITIs, colleges, and other institutions besides Mai Khadija Hopsital and a Gaushala for aged, sick and disabled cows.