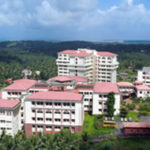 Mangaluru: The Yenepoya University instituted the chair in Islamic Studies and Research on April 4. Dr. Javed Jameel, an author of several books on Islam and an Islamic theorist has been appointed the Deputy Director of the Chair. Dr. Jameel hailing from Saharnpur in Uttar Pradesh has been a prolific writer and founded a magazine 'Islam, Muslims and the World' in 2008 (now defunct). The institution ceremony took place on April 4 at the University campus at Derlakatte. Chancellor Mr. Abdullah Kunhi called it a milestone in the history of the University. Vice Chancellor Dr. Vijayakumar was also present.
Pharmacy College: The Yenepoya University will set up a Pharmacy College, Ayurvedic Medical College and College of Homeopathy from the next academic session. According to the PRO, the inspection for these faculties has been completed and sanction is awaited.
Yenepoya University currently has Faculties of Medical, Dental, Nursing and Allied Health and Basic Sciences.