Health experts at the new clinic agree that internet overuse has emerged as a national issue.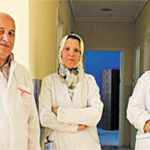 Constantine, Algeria: "When talking about addiction, people usually think about tobacco, drugs or alcohol dependency," says Dr Hakima Boualem, head of the medical staff of the addiction treatment centre of Bachir Mentouri clinic in Constantine. "But, for some, the fight is with internet – especially the 'magic blue' of Facebook."
Addiction specialists and psychologists at the Bachir Mentouri clinic, which is 450km to the east of the capital Algiers, have rolled out a rehab programme designed for compulsive users of technology, particularly social networks. This is the first clinic in Algeria, and in Africa – aiming to cure Internet fanatics. Today, the North African country counts more than nine million Facebook users, according to Algerian digital marketing analysts. But this increasing use of the internet has come at a price. "Algeria is experiencing what developing countries have been facing for a few years: the flip side of the internet," Dr Raouf Bougouffa, director of the Bachir Mentouri clinic's rehab department, told Al Jazeera. "An increasing number of internet users are losing control."
Heavy use of the internet is not necessarily pathological, experts say. "People can spend hours each day in front of a screen without being addicted. The critical distinction between an addiction and just a bad habit is that addiction implies a pattern of use that you cannot stop." For some users, going online is as important in their life as breathing, eating or sleeping. We are literally talking about people who put their life at risk," Djamel Berkat, an addiction specialist at Bachir Mentouri clinic, told Al Jazeera.