By Yusuf Mohammed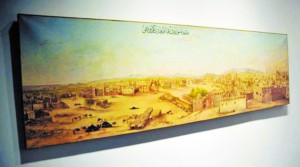 Madinah: The history of Madinah has been illuminated in words and images at a major art exhibition that opened in the city last month.
Entitled "Letters and Illumination," the exhibition includes displays of calligraphy and photographs dating back to the 19th century.
It is being held in Al-Aqeeq District, about 7 km from the Prophet's Mosque in Madinah. Ayman Hafez, director of the exhibition, told Arab News, the exhibition is being held to celebrate Madinah's selection as the capital city of Islamic Culture for 2013.
The art includes the first photographs taken in Madinah by an Egyptian, Sadeq Bey from 1880, and Indian photographer Mirza from 1881, as part of a chronological photographic essay up to 1920.
These photographs are from the King Abdul Aziz Foundation, the King Fahd Public Library and the archives of noted international bodies including the Royal Geographic Society and the Barakat Trust. There are also pictures of some Western Orientalists and famous Saudi photographers and young artists. The exhibition includes the work of various Saudi artists on the Prophet's Mosque, pilgrims, antiques of the region, natural scenery, and aerial photographs of the city. Several participants in the exhibition are from Jordan, Egypt, Japan, China, Syria, Morocco, United Arab Emirates, Lebanon, Azerbaijan, Turkey and Kuwait.
All the paintings are original, said Hafez, including a painting from 1825, which includes the names of 18 sites in Turkish language, and depicts Madinah and the surrounding areas, such as the dome, the five minarets, the surrounding mountains, the agricultural fields and key buildings.
The event will include the publication of "Al-Madinah Al-Munawwarah," a book that presents images from well-known world photographers and edited by photographer, Humberto da Silveira. The exhibition is open to the public until March 9, 2014.