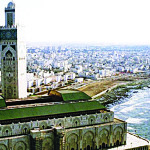 Rabat: Morocco will launch a project to significantly reduce electricity consumption in 15,000 mosques across the Kingdom.
The project, which will be accomplished over the next five years, comes within the framework of a national strategy to reduce 40 percent of electricity consumption in all mosques, and the creation of the green spaces, based on a study of energy investment company.
A study, conducted by the Ministry of Awqaf and Islamic Affairs, has revealed the possibility of reducing energy consumption in Moroccan mosques by 40 percent, through the installation of solar panels in the mosques and replacing the existing light bulbs with energy-saving ones, in addition to using solar-powered water heaters.
The project, to be launched soon, will cover in its first stage 100 mosques in nine Moroccan cities.