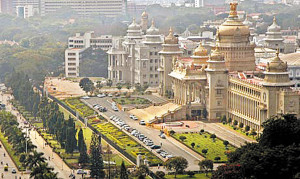 Singapore Remain on the Top, B.luru best in India, though 182nd globally
Singapore has been rated as the most livable city in Asia and Bengaluru in India, even though the latter stands at 171st place in world ranking. These ranking have been specially done for Asian expats in mind.
Mumbai and Chennai come second and third within India. In the world ranking, Mumbai and Chennai jointly share the 182nd place. New Delhi is least liveable at 2014 due to extremely poor air quality, something it share with Beijing, the capital of China. The ranking has been released by the ECA International, the world's leading provider of knowledge, information and technology for the management and assignment of employee around the world.
"Good air quality, solid infrastructure, decent medical facilities, low crime and health risks have contributed to Singapore maintaining its position at the top of the global ranking for quality of living for Asian assignees," said Lee Quane, Regional Director "" Asia, ECA International.
Singapore is followed by Sydney and Adelaide in the ranking for Asian assignees. However, the impact of some of the factors assessed, such as distance from home and differences in culture, language and climate, will vary according to where someone comes from.
Updated annually, ECA's Location Ratings system objectively evaluates a host of factors to form an assessment of the overall quality of living in over 450 locations worldwide. The system helps companies establish appropriate allowances to compensate employees for the adjustment required when going on international assignment. Factors assessed include climate; availability of health services; housing and utilities; isolation; access to a social network and leisure facilities; infrastructure; personal safety; political tensions and air quality.
Though Singapore takes the first position, it is on 96th position for someone coming from the Western countries. For European expatriates, Bern and Copenhagen are the most livable locations, while, someone expatriating from North America will find it easiest to adapt to living and working in Toronto followed by Dublin."
Region's Worst
The Pakistani cities of Islamabad (261) and Karachi (269) have the region's worst scores for personal security and social-political tensions. They are the hardest locations surveyed in Asia for expatriates to adapt to living and working in.
In mainland China, Shanghai, ranked 110th globally, is China's most liveable city followed by Beijing (122). Scores have remained steady across most Chinese locations but Chongqing and Shenzhen saw the most improvement over the year.
Global Overview
Denmark's capital, Copenhagen (7th globally), is the European city that offers the best quality of living for Asian assignees followed by the Swiss city of Bern(11th). The Albanian city of Tirana (189th) has seen the biggest improvement this survey largely due to a significant upgrade in its education score.
In North America, Vancouver (24th) is the most liveable location followed by San Francisco (40). While in Latin America, the Uruguayan capital, Montevideo, (121) scores more favourably for Asian assignees, followed by Chile's Santiago (126).
Dubai Best, Kandahar Worst
Dubai (109th globally) is the location in the Middle East which requires the least adjustment for Asian assignees overall. Globally, the hardest locations to adapt to living and working in are the Afghan locations of Lashkar Gah and Kandahar.
For Asian assignees going to Africa, Port Louis, Mauritius, (118) affords the best quality of living followed by Cape Town (133).