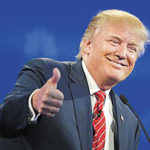 Seventy American lawmakers recently introduced a bill in the Congress to ensure people were not barred from the US because of their religion, even as presumptive Republican presidential nominee, Donald Trump has stuck to his controversial "temporary" ban call on Muslims.
"We cannot allow fear and paranoia to drive our public policy, especially when it comes to the defining values of our country," said Congressman Don Beyer, the lawmaker behind the move to introduce the Religious Freedom Bill. Beyer has been able to cobble together a coalition of as many as 70 lawmakers""mostly from the Democratic party, and a few from the Republican party""to back the legislation. "Our Founding Fathers guaranteed religious freedom for all in the First Amendment to our Constitution. People all around the world look to us as the standard for freedom, liberty, and tolerance," he said. The bill gained support of over 100 ethnic and minority groups, including from Indian-American communities. Several lawmakers in their statement made it clear that the legislation was in response to the call given by Trump to prevent Muslims from entering the United States.
Fanned the flames of hate
"This bill is about the very foundation our nation was built on, and that's religious freedom," said Congressman Joe Crowley, Vice Chair of the Democratic Caucus. "Unfortunately, the rhetoric we've heard over the past year or so has not only greatly affected our national discourse, it has fanned the flames of hate and hurt innocent families," said Crowley, a former co-chair of the Congressional Caucus on India and Indian-Americans. House minority leader, Steny Hoyer said regardless of what Trump may think, barring members of a particular religious group from entering the country is unconstitutional and would never be supported by the Congress or the courts. "I hope House Republicans will join with us as cosponsors of this bill to send a strong message of support for our Constitution and the freedoms we hold dear and that have sustained us for generations," he said.
The OCA-Asian Pacific American Advocates in a statement commended the introduction of the legislation. "We stand in solidarity with the Muslim community in demanding fair treatment, equal rights, and an end to xenophobic rhetoric," said Ken Lee, OCA national president. "As a Chinese-American, the Muslim ban proposal is a shocking reminder that the Chinese Exclusion Act can never be far from our thoughts," Lee said. Nihad Awad, executive director of the Council on American-Islamic Relations (CAIR), said: "America must uphold its ideals of religious tolerance and welcoming the stranger, or else we face a diminishing role at the table of international leadership." Meanwhile in an interview to Fox News, Trump reiterated his proposal to ban Muslims from entering the United States.