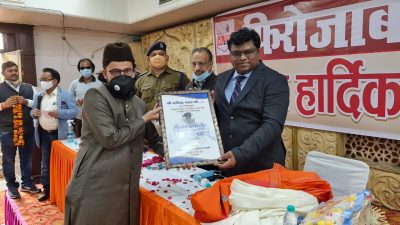 Maulana Alam Mustafa Yaqubia (General Secretary, Islamic Centre, Firozabad, U.P.).
Q: Could you please share something about yourself?
A: My name is Alam Mustafa Yaqubi, and I am 45 years old. Presently, I am General Secretary of Islamic Centre, Firzoabad. I graduated as an Islamic scholar (alim) from Mazahir ul-Uloom, Saharanpur, in 1999. Then, I did High School and Intermediate. Considering the requirements of the contemporary times, I stepped into the professional field and did computer courses and a journalism course.  An Islamic scholar should be keep up with changing times, and this is what made me study modern subjects even after my formal Islamic studies.
Q: How and when did you get the idea to engage in social and humanitarian projects?  
A: After completing professional studies, I opened some computer institutes in Lucknow. But this thought was in my mind: Where am I using the understanding of religion, which I have received? In order to serve the poor and needy, I made up my mind to start a centre, which came into being in 2013, here in Firozabad. Among its primary purposes is to provide religious knowledge and offer professional and language and computer courses to young people and to infuse in them the significance of service of humankind, which is a very important teaching of Islam. With this Islamic centre, we started our journey towards social service. Some of the efforts of the centre are blood donation camps, plantation projects, medical awareness camps, visits to leprosy patients and distribution of ration kits.
Q: What future plans do you have regarding your centre, and what message do you have for the community as well as the humanity?
A:  The best person among all is the one who benefits others. There are many things that we would like to do in the near future, such as having a platform where people from different religions and communities can come together and work for the good of all. We would also like to work with young people, to help them with their professional and academic lives, start a career counseling centre, and so on.
I would say that a human becomes truly human when he desires to work for  humanity. Our centre is open for all. Our message for our youth is to balance their lives with spirituality and science and to inculcate in themselves love for humanity, and through this, help the dream of a united and developed India come true.