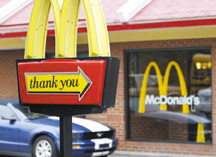 Michigan: McDonald's has paid $700,000 to members of a U.S. Muslim community in Michigan after one of its franchise restaurants falsely advertised its food as prepared in accordance with Islamic law (halal).
A Muslim Detroit resident, Ahmed claimed he bought a chicken sandwich in September 2011, but found it was not halal. The restaurant is one of two in the locality which sells halal products to cater to one of the nation's largest Arab and Muslim communities. The Detroit area is home to about 150,000 Muslims of different ethnicities. The two McDonald's branches advertise that they exclusively sell halal Chicken McNuggets and McChicken meals. Ahmed approached lawyer, Kassem Dakhlalah, together they pursued an investigation before launching a class-action lawsuit against the fast-food heavyweight.
McDonald's and Finley's Management agreed to the tentative $700,000 settlement. The money will be shared by Ahmed, a Detroit health clinic, the Arab American National Museum in Dearborn, Michigan and lawyers. McDonald's and Finley's Management deny any liability, but they claim the settlement is in their best interests.